NBA Live 14 Cover Athlete for PS4, Xbox One Announced
Today EA announced that Cleveland Cavaliers point guard Kyrie Irving is the cover athlete for NBA Live 14, which will debut on the PlayStation 4 and Xbox One later this year.
To celebrate the announcement of the cover athlete EA sports release a short video showing Irving's player model in the new game. The video simple shows the point guard dribbling on the court in his Cavs jersey, but it's the first in-game footage of the game shown.
The 2011-12 NBA Rookie of The Year was also featured in the CG announcement trailer for the new game at Microsoft's Xbox One announcement. This time, however, player get to see what he'll actually look like in the game.
"I'm so proud to be the face of this franchise as it makes its much-anticipated return," Irving said in the press release. "I've been on the court with the development team and I've seen first-hand some of the amazing things EA SPORTS is doing with NBA LIVE 14. The fans are going to love it."
EA is putting an emphasis on dribbling in its new NBA game, using its new BounceTek technology. The technology should make the ball feel like it's an actual object that virtual players interact with instead of a static object that's tied to the players. The company claimed at E3 that it will make NBA Live 14 the most realistic basketball game yet.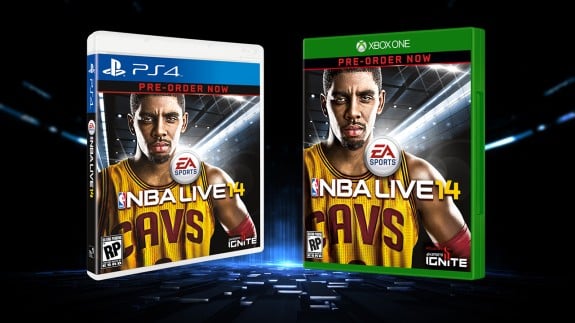 NBA Live 14 is the first basketball game from EA in several years. The company tried to overhaul its basketball games with NBA Elite 11 in 2010. The company cancelled the game weeks before release, however, because it simply didn't work well. EA hasn't released a sim basketball game since.
The NBA Live reboot is only coming to next generation consoles, so gamers who want to play it will have to buy a PlayStation 4 or Xbox One first. The game uses the new Ignite Engine that's found in all next-generation EA sports titles. In addition to BounceTek the engine supports better physics, better looking athlete models and more detailed stadiums and crowds.

This article may contain affiliate links. Click here for more details.