Nenamark Benchmark Reveals Dual-Core S4 on Verizon Galaxy S III
It looks like the Nenamark benchmarking site confirms what we've already known from earlier leaks and rumors–the Verizon edition of Samsung's flagship Galaxy S III Android smartphone will be running on Qualcomm's dual-core Snapdragon S4 processor rather than Samsung's own quad-core Exynos CPU. The device, model number SCH-I535, was spotted previously through a leaked user agent string and now appears again on Nenamark's benchmarking tool suggesting that either someone at Verizon or Samsung is testing the device now actively.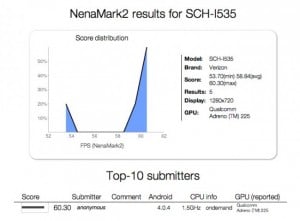 According to Droid-life, the Nenamark tool shows that the device utilizes the Adreno 225 graphics engine and the CPU is clocked at 1.5 GHz, clues that the Verizon model will be running Qualcomm's S4 chipset. As the S4 is the only Qualcomm processor at this time to be coupled with the Adreno 225 GPU, the news is indicative that the S4 processor will be inside the device.
With an S4 processor under the hood, performance should be pretty much even for high-end Android flagships in the U.S. With variants of the HTC One X (AT&T One X and Sprint HTC EVO 4G LTE) and the Samsung Galaxy S III powered by the S4, the main differentiation between these devices in the U.S. will rely mostly on software optimizations and tweaks as well as bundled software.
Likely, the S4 processor was chosen due to better compatibility with 4G LTE networks in the U.S.

As an Amazon Associate I earn from qualifying purchases.