Neonode zForce Pad bring IR touch to the 5-13″ range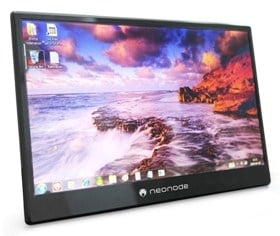 Straight out of Stockholm, from Neonode comes the zForce Pad, an infrared touchscreen solution for screen sizes in the 5- to 13-inch range. Offers low cost, low power consumption, multi-touch capability and above its competing technologies, 100% screen transparency.
Like Microsoft Surface, zForce Pad uses infrared projection to recognize contact points, though obviously in a much smaller package. Per the website:
zForce uses a small frame around the display with LEDs and photoreceptors on the opposites sides hidden behind a infrared-transparent bezel. A controller sequentially pulses the LEDs to create a grid of infrared light beams across the display.
Pretty cool stuff. They advertise their product as being ideal for phones (with large screens), MIDs, Tablet PCs (no reason an active digitizer can't be mounted beneath the screen), and more. Full press release below. Hat tip to Slashgear.
Neonode Launches zForce Pad – A Touchscreen Platform for Mobile Internet and Computer Devices
STOCKHOLM, Sweden, February 23, 2010 – Neonode, Inc. (NEON.OB), the Swedish Optical Touchscreen Technology Company, today announced the launch of zForce Pad, a new low cost 5 to13 inch widescreen touch screen reference design for mobile internet and computer devices. zForce Pad is the latest in a series of new innovative products based on the Neonode's patented touchscreen technology, zForce. The new platform joins the Company's powerful line-up of reference designs that provide fast and economical integration of the Neonode touch screen technology into e-book readers, digital picture frames, mobile internet devices and mobile phones.
Neonode's latest reference design, zForce Pad, is aimed squarely at companies who develop and sell touch screen based mobile internet and computer devices such as tablet-PCs and iPad-like products. zForce Pad offers a number of advantages compared to existing technologies: 100% transparency (no overlay needed like in resistive or capacitive), low cost for complete touch screen solution, ultrathin design, outstanding finger touch experiences (multi-touch support for gesture like pinch to zoom), integrated ambient light sensor for self adjusting backlight levels and lower power consumption and much more.  Products based on the zForce Pad touch screen reference design are already being developed by Asian companies.
"The market for this type of products is booming and the touch screen solution is destined to be a vital part of the success of this market. We developed the zForce Pad platform together with companies in the mobile internet and tablet PC device industry and we are confident that it will play an important role in the development of the market. The feed-back from the companies we presented zForce Pad to at the recently completed 3GSM World Mobile Congress in Barcelona, Spain, was very encouraging." said Thomas Eriksson, CEO of Neonode Technologies AB.
Pictures and a video of zForce Pad integrated in a demonstration product are available on Neonode's website, www.neonode.com/zforce-pad/demo.
Neonode offers touch solutions that is many times more cost effective than any other high performance touch solutions in the market today. zForce incorporates all functionality and performance features from traditional touch solutions like resistive and capacitive. zForce supports high resolution pen input, multi-finger touch, gestures like zooming combined with superior picture quality.  zForce is currently being integrated into products such as mobile phones, mobile internet devices, e-books, digital picture frames and tablet PC's.

As an Amazon Associate I earn from qualifying purchases.