Nerds: A Musical About Steve Jobs and Bill Gates Now in Philly
A musical about Steve Jobs and Bill Gates? Who knew? Well, apparently the creators of Nerds, a musical about Steve Jobs and Bill Gates and the culture that spawned them. It's playing now at the Philadelphia Theatre Company and from what I'm reading in multiple reviews it seems to be a hit. Although one review says Woz could use more stage time.
With book and lyrics by Jordan-Allen Dutton and Erik Weiner and music by Hal Goldberg, the descriptions of Nerds say that it is a comically, irreverent and satirical look the rise of Jobs and Gates "from garage inventors to Silicon Valley mega-billionaires as we take a hilarious musical journey from the floppy disc era to the iPhone phenomenon. Celebrate the computer revolution and the two pop culture icons who made it all possible."  One review says that Jobs buys his way into heaven with an iTunes Gift card, so spoiler or not that probably should give us an idea of what we're in for.  Another compares the show to a "a new digital game that grabs your attention and won't let go. Forget about everything else, it will wait. You're hooked. "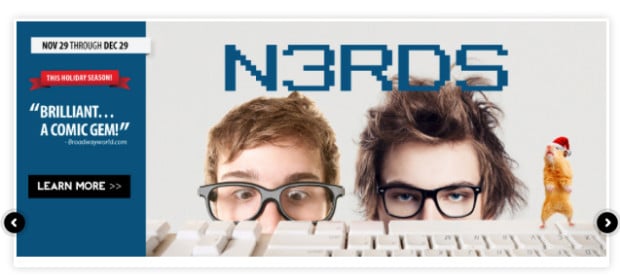 Having written, produced, and directed musicals before I'm not in the least surprised to see the subject matter. You can make a musical out of anything. Making it work is another thing entirely. Creating a musical about out-sized personalities is nothing new. Nerds had its original debut at the Philadelphia Theatre Company in 2007 and has been substantially re-worked for this new version. That only makes sense because quite a bit has changed with the lives of Gates, Jobs, and the tech industry since then. And trust me on this, one of the few things that sees revisions more than a new operating system is a new musical.
Nerds is scheduled to run through December 29 at the Philadelphia Theatre Company.