Netbook Dreaming with Loren Heiny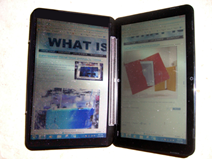 So, what do you want in a Netbook (or whatever we are going to call them)? Loren Heiny is doing the same thing I am at the moment and checking out the HP Mini 1000. Well, when I can get it away from my wife, that is. And as a good Tableteer, he's thinking about how a Netbook would function with touch or the pen.
Loren has photo-shopped up some interesting pictures to express some of his wishes and to look at some of the pros and cons.
Worth a look-see. Check it out here.

As an Amazon Associate I earn from qualifying purchases.