Netbook or iPad? The Pros and Cons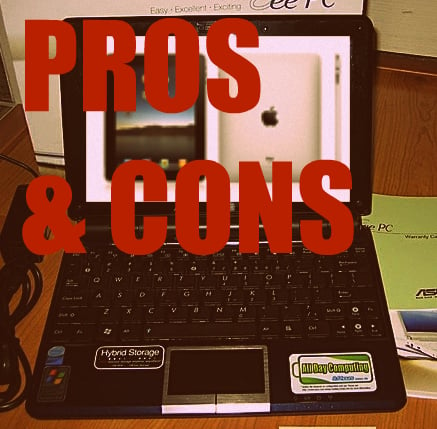 I was a big fan of netbooks when they first came out.  They're cheap, provide plenty of functionality, and make great traveling companions.  Despite the booming popularity of netbooks, I believe that the iPad will create a new market for tablet-styled devices.  Whether you're an Apple fan or not, the iPad's perceived ease of use, design, and portability will assure it has a place.  The question some are now asking is whether they should buy a netbook, the iPad, or a similar unreleased tablet.
The core of this question ultimately relates to the device's purpose.  What exactly do you need to accomplish?  While it seems that the iPad is primarily a consumption device, there will likely be many available applications that make it a useful tool.  The iPad's extra accessories such as the keyboard dock highlight that it will offer an extended experience rather than simply being a large iPod Touch.
Here is a simple comparison of the pros and cons for a netbook and the iPad.
Netbook
| | |
| --- | --- |
| Pro | Con |
| Low cost | Usually lower performance |
| Size | Often smaller, cramped keyboard |
| Battery life | Small screen |
| Integrated webcam | Lower build quality |
| Various OS choices | Lacks Apple coolness factor? |
| Multitasking | Impractical compared to full featured notebook |
iPad
| | |
| --- | --- |
| Pro | Con |
| Low cost for entry unit | Apple controlled App Store |
| Ease of use | No physical keyboard (unless using keyboard dock) |
| Portability | Lack of inking/pen support |
| Battery life | Lack of webcam |
| iPhone OS | iPhone OS |
| 140,000 Apps | Lack of multitasking |
What does $499 get you in the netbook department? 
Amazon
has several winners to consider.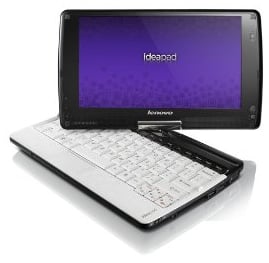 The
Lenovo S10-3t 10.1-Inch Tablet Netbook comes in at a surprising $499 even and features the following specs:
1.66GHz Intel Atom Processor
1GB 204 Pin DDR2 SO-DIMM Memory
250GB SATA Hard Drive (5400RPM); 802.11 b/g/n
10.1″ 1024×600 LED Display (16:9); Intel GMA 3150 Graphics
Windows 7 Starter
Another sub $499 choice is the Acer Aspire One 751h 11.6-Inch Netbook.  This machine is available now for $465 and features: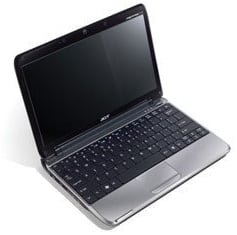 1.33GHz Intel Atom Z520 Processor
2GB DDR2 667 SDRAM
250GB 5400RPM Hard Drive
Windows XP Pro (SP3), Up to 8 Hours of Battery Life (6-Cell 5200 mAh)
11.6″ High-def Display (1366 x 768), Intel Graphics Media Accelerator 500
Ultimately, the iPad will develop with software updates and official/unofficial community support.  Remember that the first iPhone and iPod Touch lacked something as simple as cut and paste.  The success of the iPad largely depends upon Apple's direction and development.  The iPad will not succeed if it is a syncing, harddrive mirroring, oversized iPod.  Most folks desire a device that can standalone, independent of any other computer.  Sharing and syncing of information is great, but hopefully the iPad can be used apart from a notebook or desktop.
With an extra $499 burning a hole in your pocket, which would you buy?

As an Amazon Associate I earn from qualifying purchases.