Netbook Reviews and First Looks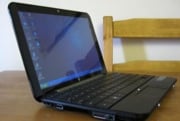 A couple of interesting looks at Netbooks rolled up in my feeds this morning and they are worth taking a look at.
First up, Brad Linder of Liliputing has posted a review of the HP Mini 1000. He gives quite a good comparison of the new Mini 1000 versus the earlier HP Mini 2133 and finds a number of the differences not quite up to snuff.
Brian Hollar of Thinking on the Margins is exploring the world of Netbooks for the first time with a used Asus Eee 901 and it seems to be love at first sight in his first looks at the device.
If you can't tell, I really love this thing so far. It's the best $265 I've spent in a long time. I'll continue to pass on my impressions as I get to use it a bit more. For now if I could, I'd give it 5.5 out of 5 stars.

As an Amazon Associate I earn from qualifying purchases.