Netbooks Dominate Amazon's Cyber Monday Sale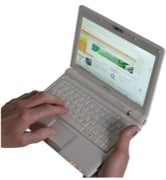 And you wonder why Intel's VP of Sales and Marketing Stu Pann is poo-pooing Netbooks. PCWorld is reporting that Netbooks dominated Amazon.com's Cyber Monday sales in computers. The Asus 900HA took the top slot followed by the Acer Aspire One and it looks like folks opted for the 6-cell battery option across the board. No real surprise there.

This article may contain affiliate links. Click here for more details.