Netflix and YouTube Launch DIAL To Combat AirPlay
Netflix and YouTube have a new service called DIAL that will provide an open alternative to Apple's AirPlay according to GigaOm.
DIAL stands for Discover And Launch, and instead of mirroring the display from a mobile device on a TV like AirPlay, it focuses on using mobile devices to launch and control apps.
Parts of DIAL are already available in YouTube and Netflix apps across multiple devices. Recent Google TV devices have DIAL support, for example. Android users can use a YouTube app to control YouTube in those modern Google TV devices, which is part of DIAL.
Netflix also has DIAL functionality in its PS3 app where users can control the TV app with a Netflix mobile app.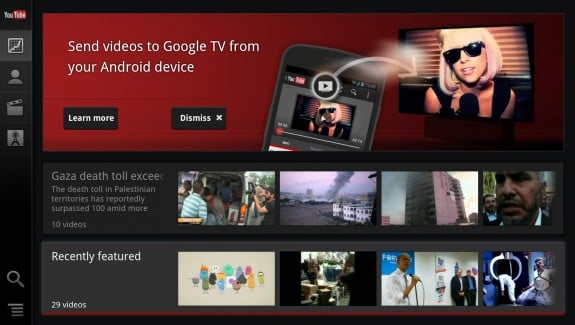 While the current uses don't take advantage of it, part of the appeal of DIAL is devices can discover each other automatically on the same network and launch apps. So a mobile app can detect a device on the network that uses DIAL, and can automatically launch an app on the device. AirPlay doesn't currently let users launch apps automatically from a mobile device.
YouTube and Netflix have several hardware partners signed up for DIAL, including Samsung and LG which already built the protocol into some 2012 TVs according to developers. Sony was also mentioned in the specs for the new protocol.
The two companies also signed other content delivery services such as Hulu, BBC, Pandora and Flingo to DIAL, so those apps should support the protocol int he future. There's also a possibility of DIAL coming to Chrome so users can launch apps on their TV from their computer's browser.
DIAL-enabled devices will launch sometime in the next few months. That will include new devices and software updates to current devices to add support for the feature Given the timing, it also seems likely that Sony could incorporate the protocol into its upcoming PlayStation 4 console.

As an Amazon Associate I earn from qualifying purchases.