Netflix Isn't Limiting Simultaneous Streams, Error Message Is Erroneous
Mashable, TechCrunch, and a few other sites reported earlier today that Netflix started restricting simultaneous streaming on Instant accounts this weekend, affecting users who tried to stream a movie while another person on the same account tried to stream a different one. These restrictions have technically always been a part of the Netflix Terms of Service, but the company hadn't enforced them. According to Netflix, they still aren't. In an email to GigaOM this morning, the VP of Corporate Communications stated:
No Netflix member is limited to less than two concurrent streams. A few Netflix members have heard differently from us, which is an error that we are correcting.
So all Netflix users regardless of their tier should have the ability to watch two movies on different devices.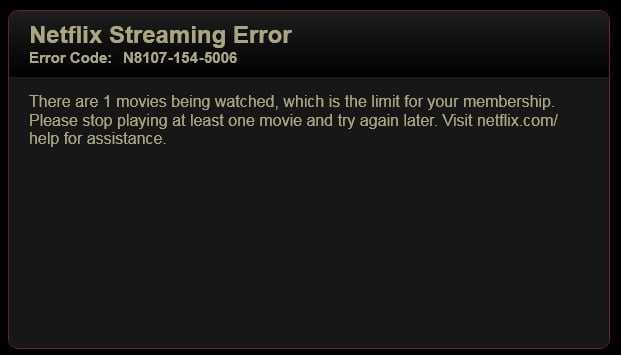 The current TOS states that the number of concurrent streams is based on the DVD-level plan you subscribe to. If you're on a 3 DVDs at a time plan, you can have 3 streams; with a 1 DVD at a time plan technically you should only get 1.
However, the limitation hasn't been enforced, even for lower-tier users. And this language hasn't been changed since Netflix announced their new pricing scheme, which charges separately for streaming and DVD plans. Their statement today may indicate the new policy going forward, but it would be nice if the TOS reflected the real policy.
In the meantime, families and friends sharing a Netflix account can stop worrying for now. If you continue to encounter the error shown above, contact Netflix support.

As an Amazon Associate I earn from qualifying purchases.