Netflix offers streaming-only option, bumps DVD plan up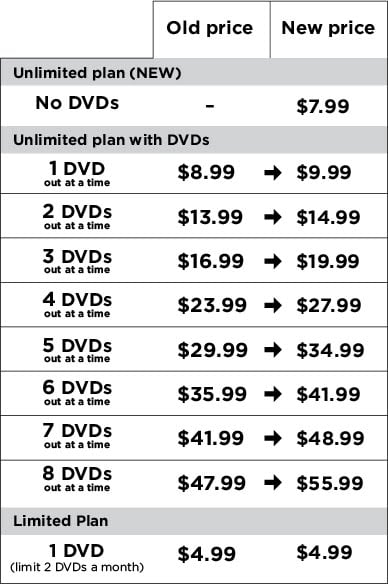 In an announcement that coincides with the release of AirPlay-equipped iOS 4.2, Netflix is offering a streaming-only video plan for $7.99 a month, the same as the new Hulu Plus price.
Of course, Apple TV already includes Netflix so AirPlay doesn't offer a real advantage here, but at least it's cheaper to sign up for Netflix now. For all you chumps still spinning optical media (like me), you (and me) get hit with a price bump of $1 to $8. Folks on the 2 DVD per month plan remain unaffected (undoubtedly because $4.99 is already too much for 2 DVDs per month).
Aside from iOS devices, the lower-priced streaming-only plan also benefits folks who use computers that lack optical drives, such as owners of netbooks, slate-style tablets, and the Macbook Air, as their primary video players.
Despite the price bump, I believe I will stick with the 1 DVD + streaming plan. As convenient as streaming is, it still does not match the variety of their DVD library, and I primarily watch video on my TV connected to my Windows Media Center (which has an optical drive). $2 more for upwards of 4 DVDs a month is worthwhile to me (could go higher, but I don't watch more than one per week).