If you have a Netflix account, here are 15 Netflix tips and tricks that let you take advantage of the popular movie and TV show streaming service.
Netflix is arguably the most popular streaming service in the world, and it has a huge library of movies and TV shows for users to watch, all of which can be had for just under $10 per month, which is a steal.
However, you might not be getting the most out of the streaming service. In fact, there's a lot you can do with Netflix that you might not know about, including getting notifications whenever a new season of a TV show is available to watch and even cater your viewing experience and get better recommendations when browsing for content to watch.
Here are 15 Netflix tips and tricks that you can use the next time you log in to watch your favorite shows and films.
Control the Streaming Quality
If you have a slow WiFi connection or don't want to use up all of your data while you're out on the go, you can lower the streaming quality of content that you watch on Netflix.
Simply just go to your Your Account > Playback Settings > Manage video quality and set it to a low streaming quality. 480p is usually the sweet spot when you want to save bandwidth, but still get a decent-quality stream.
Rate Content for Better Recommendations
If Netflix is giving you crappy recommendations, it might be because you're aren't rating enough movies and TV shows. After you watch a movie or TV show, be sure to give it a rating so that Netflix can use that information to give you better recommendations in the future.
Furthermore, you can edit your taste preferences by going to Your Account > Taste preferences and filling in the questionnaire. This gives Netflix a much better idea of what genres you're into and can provide you with better recommendations.
Find Out What's New
If you're the kind of user that like's to see what new content comes to Netflix, there are several resources to keep up with in regards to that.
Netflix's Facebook page is one the first places you should bookmark, as it will send out an update whenever a new popular movie or TV shows comes to Netflix. You can also bookmark What's New on Netflix, which is a website dedicated to tracking all new content that arrives on Netflix, and you'll be one of the first ones to know.
Find Out What's Almost Gone
If you're not into the new stuff, but would like to know what content will be gone from Netflix soon, you can keep up with a running list.
Netflix doesn't keep all of its movies and TV shows available forever, and they usually get rid of some content every month or so. Now Streaming Pod regularly posts which movies and TV shows will be heading out of Netflix, that way you can watch it before it's gone.
Use Can I Stream It
If you were hoping to watch a specific movie or TV show on Netflix, but it isn't available, not all hope is lost.
A service called Can I Stream It allows you to search a handful of different streaming services at once to see which one offers the movie or TV show that you're looking for. It will search Netflix, Hulu, Amazon Instant Video, YouTube, and more.
Unblock Netflix in Restricted Regions
If you're out of the country on business or vacation, there's no reason for you to have to go without Netflix. Luckily, you can easily get around region restrictions.
Hola is a free VPN service that allows you access any website, no matter if it has region restriction, including Netflix. It's really easy to set up and use, and the best part is that it's free.
Use Reddit to Discover the Best Netflix Content
Reddit was probably the last place you were thinking when trying to come up with resources on finding the best content on Netflix, but you'd be mistaken.
The /r/NetflixBestOf subreddit is a rolling list of really great movies and TV shows that are recommendations to watch. You can also check out this list posted on Reddit that lists all of the IMDb Top 250 movies that are available for streaming on Netflix.
Also, if you're feeling a bit naughty, you can check out all of the NC-17 rated movies on Netflix, but there are only a small handful of them.
Create Profiles for Friends & Family
You've probably shared your Netflix password with family members and close friends, but did you know that you can create individual profiles for each person?
Simply go up to your account in the upper-right corner and then click on Manage Profiles to add another profile to your account. This will keep queues and recommendations separate for each user.
Use Keyboard Shortcuts
It's way easier to use keyboard shortcuts than trying to navigate around with your mouse. Here are some that you can use:
F = Full Screen
Esc = Exit Full Screen
Shift + Left Arrow = Rewind
Shift + Right Arrow = Fast-Forward
M = Mute
Up and Down Arrows = Volume
Space = Play/Pause
Change the Style of Subtitles
Do you hate the look of the default subtitles? That yellow can be pretty distracting. Luckily, you can easily change that.
In Your Account, click on Subtitle Appearance. From here, you can change the size of the text, as well as the color.
Delete Your Viewing History
If like watching those guilty pleasures but prefer that others who have access to your account not know about it, you can delete your viewing history.
Go to Your Account and then click on Viewing activity. From there, you'll see a list of everything you've watched. Simply click the X to the right of an item to delete it from your viewing history. Unfortunately, you can't select all and delete, so you'll have to delete each one individually if you want to get rid of everything.
Disable Auto-Play of Next Episodes
Netflix automatically plays the next episode in a series unless you click on the screen and cancel it. If you'd rather have Netflix not automatically play the episode, you can change that in the settings.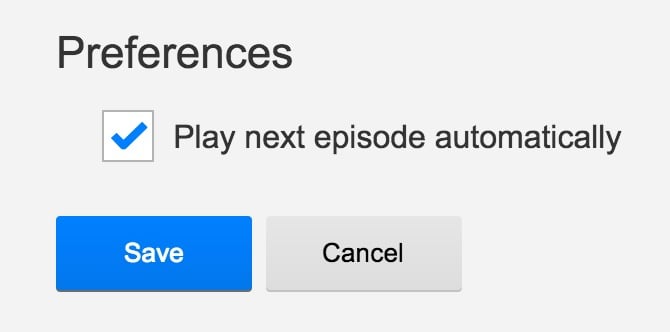 Go to Your Account and click on Playback settings. From there, uncheck the box next to Play next episode automatically.
Use Your Phone a Remote
On the PS3 and PS4, users can use their phone or tablet to control Netflix instead of a controller. All you have to do is make sure that your phone/tablet and your PS3/PS4 are connected to the same WiFi network. From there, open up the Netflix app on both devices.
You can also do this if you have a Chromecast, just open up the Netflix app on your phone and beam it to your TV with the Chromecast on.
Add IMDb to Netflix
IMDb is the go-to source for information on movies and TV shows. With the Netflix Enhancer extension, you can add IMDb ratings and other feature to Netflix in the browser.
https://youtu.be/BeldmDI-zVo
The Chrome extension will also display Rotten Tomatoes scores and links to trailers. It costs $1.99 per year, but it's definitely worth the price.
Watch Movies with Far-Away Friends
If you want to watch a Netflix movie or TV show with your friends, but you're all in different regions, a service called Rabbit allows you to watch the show together seamlessly.
You all watch the same stream together so that there's no syncing issues, and you can even chat while you watch the show to provide commentary to your friends and vice versa. It's a free service to use and doesn't even require a sign-up.

As an Amazon Associate I earn from qualifying purchases.