Netgear Verizon Jetpack 4G LTE Mobile Hotspot AC791L Review
Netgear and Verizon teamed up to offer a new hotspot with incredible battery life and good LTE speeds for up to 15 devices. The Verizon Jetpack 4G LTE Mobile Hotspot AC791L connects devices like laptops, Wi-Fi tablets and even phones with a poor signal quality on another carrier. However, in a world of phones with a hotspot feature built-in, does the Verizon Jetpack 4G LTE Mobile Hotspot AC791L make sense?
Almost every smartphone easily connects to the Internet thanks to the ubiquitous LTE and a simple process created by the phone software designers. Power it up and you're online, but only a handful of laptops come with fast LTE wireless built-in.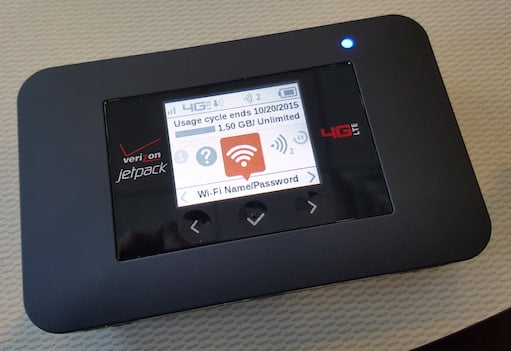 The Verizon Jetpack 4G LTE Mobile Hotspot AC791L makes is easy to quickly connect up to 15 devices to the hotspot. It's the size of a deck of cards. Slide it into a pocket or leave it in the car glove compartment hooked up to a car charger with a micro-USB cable and adapter. Enter the password into the Wi-Fi connection software settings once and users can connect immediately when you're within range.
Verizon Jetpack 4G LTE Mobile Hotspot AC791L Design
The Verizon Jetpack 4G LTE Mobile Hotspot AC791L doesn't take up much space. It measures  4.33″ (H) x 2.67″ (W) x 0.75″ (D) and weighs 5.8 oz. That's small enough for most people to carry in their pocket, computer bag, purse or just stash in a car storage compartment. It's the same design as the Netgear hotspot we reviewed last year that worked with AT&T.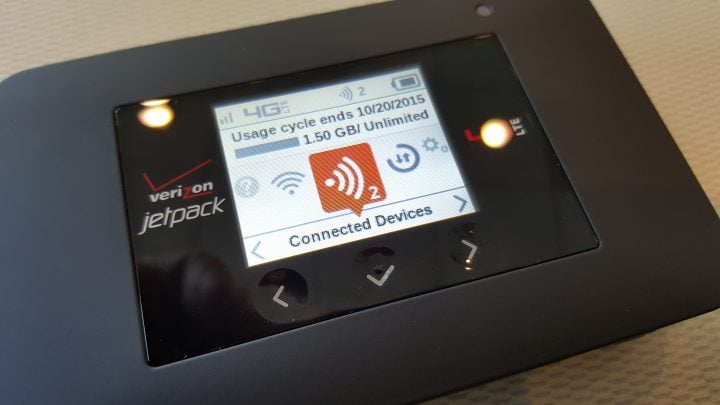 On the top of the hotspot there's a full color display with three touch buttons below the screen. The buttons serve as the select, back and forward buttons. Users interact with the onscreen controls using these buttons.
The TFT display is not very big at only 1.77-inches and the resolution measures just 128×160. However, we don't need a higher resolution screen because it would only diminish battery life.
The screen's protective layer is plastic and scratches easily. After only a month of usage, the unit looks scuffed. It needs a better protective layer. After a lot of usage and time it may become hard to read.
The back pops off to show a removable battery and the SIM card slot.  There's a 4,340mAh battery inside. More on that below.
On one side above the display there is a power button.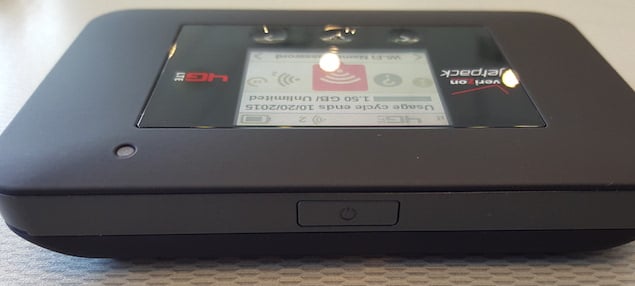 On the side below the site there is a micro-USB port and two external antennae ports. This lets users plug in higher gain antennae to increase the LTE connection strength.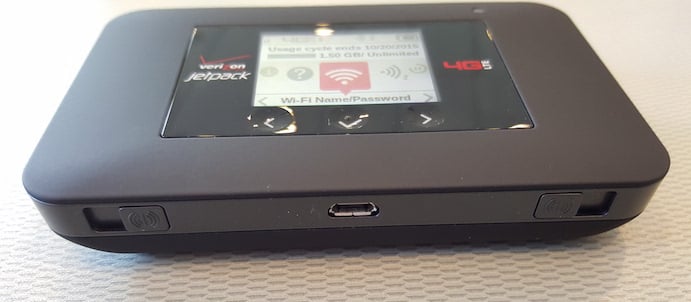 The software and user-interface is a little clunky due to navigating with the three buttons, but users won't need to worry about it too often. A status bar shows the connection strength, the number of devices connected and battery life using a visual battery icon.
The user-interface screens from left to right include the following:
Wi-Fi Name/Password
Number of connected devices
Data Usage
Settings
Universal Charging
Software Update
Messages
About screen
Help screen
To change the device's password, the user must connect with a browser-enabled device like a laptop and enter a numerical IP address. The user will have to log in and change the password from the browser screen. I wish you could change it on the device.
Verizon Jetpack 4G LTE Mobile Hotspot AC791L Speed
None of the features matter if the device slows users down while online. We tested the speed multiple times and found that it downloads data quickly when there's a solid connection. Speedtest.net consistently gave us over 35-38 Gbps download speeds. The upload speed consistently hit 12-15 Gbps.
When compared to a crowded coffee shop with people downloading email, software updates or streaming video, it's always going to give better speeds. I also compared it to my phone's data connection through T-Mobile. The Verizon Jetpack 4G LTE Mobile Hotspot AC791L offered faster speeds both up and down using Verizon.
We recently switched to T-Mobile, but network speed wasn't one. Verizon offers faster speeds in my area. My family took a week-long trip to Ocracoke Island on the Outer Banks of North Carolina. T-Mobile offers no connection at all, but the Verizon Jetpack 4G LTE Mobile Hotspot AC791L allowed us to use our phones for both Internet and Wi-Fi calling.
Verizon Jetpack 4G LTE Mobile Hotspot AC791L Battery Life
As simple as the hotspot is to use and as fast as it downloads and uploads data, the real genius of the Verizon Jetpack 4G LTE Mobile Hotspot comes from the battery life and the Universal Charging feature. First, a look at battery life. Verizon and Netgear promise 24 hours of usage and 27 days of standby time. I can confirm that the full-day battery life isn't a pipe dream. I unplugged it at 7:00 a.m. and it's still running at 10:00 a.m. on day two. It's about to die, so I'll need to plug it in soon. That's over 27 hours of battery life with heavy usage. I didn't use the Universal Charging feature during that day, which will lower battery life as it charges another device.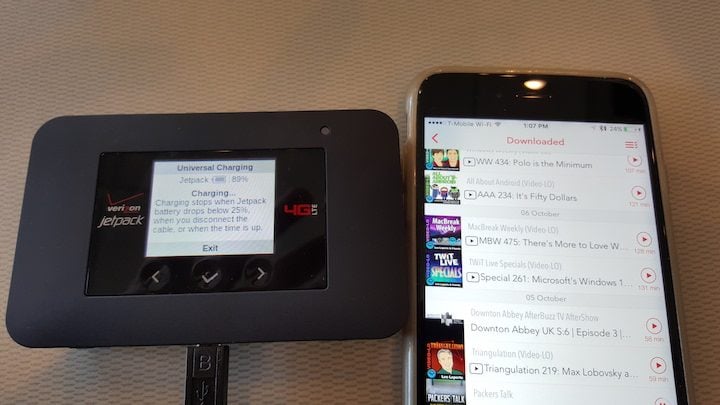 Universal Charging lets users piggy back their phone, tablet or USB-powered accessory onto the hotspot's battery for a nice boost in power. The hotspot comes with a special cable that plugs into the micro-USB port on the hotspot. On the other end, there's a traditional USB female port. Plug a phone, tablet or accessory's charging cable into that port and it boosts the battery. It's not fast charging, but does give the user a boost in power to get through a busy day.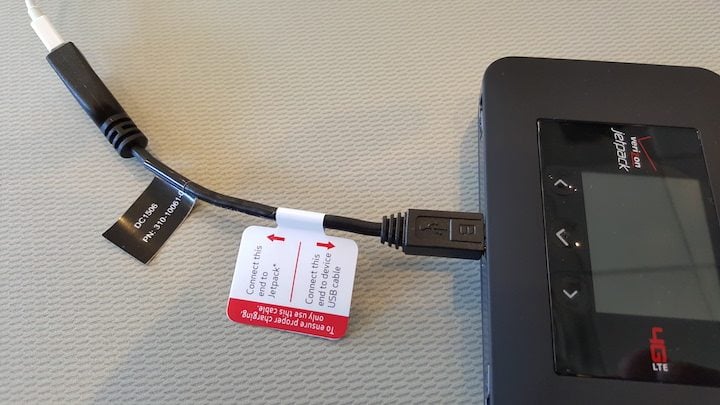 The little dongle will get lost if users don't keep track of it carefully. I predict it won't make it more than a few months for a lot of people to lose theirs. I wish it came with a key ring loop so I could put it on my key chain. Even better, I wish they made the housing of the hotspot slightly bigger and added a second USB port so I didn't need the dongle.
Verizon Jetpack 4G LTE Mobile Hotspot AC791L  Recommendation
Verizon will charge users either $29.99 with a two-year commitment or $199.99 without a commitment. They also add $10/month to a data plan. It's worth it.
The speed, battery life and simplicity of use make the Verizon Jetpack 4G LTE Mobile Hotspot AC791L a great option for people who often need to get online with a laptop or tablet when there's no reliable Internet connection available. It's also a good solution for those who use one of the other wireless carriers, but occasionally travel to an area where the primary carrier doesn't offer good connection speeds, like my situation with T-Mobile on the Outer Banks.
Someone who never uses a tablet or laptop away from a reliable Wi-Fi network shouldn't bother. It's not worth the cost or even the small monthly fee, which brings the total cost of to over $270 with a two-year contract ($29.99 up front plus $10/month on the bill).
Netgear needs to fix the screen so that it's not so easily scratched. I also wish they included a better way to connect a USB-powered device for the Universal Charging feature.
Learn more about the Netgear Verizon Jetpack 4G LTE Mobile Hotspot AC791L from Netgear and from Verizon.