Netgear WiFi Booster for Mobile Review
The Netgear WiFi Booster for Mobile is a small, easy to configure gadget that boosts WiFi signals, eliminating dead-zones and bringing WiFi to backyards and porches.
This small WiFi booster works with most routers, not just Netgear, to bring WiFi to the places users take their tablets and smartphones, like the bedroom, garage and backyard.
As unlimited mobile data plans disappear and 4G LTE connections help users blow through data limits faster it's a good idea to make sure devices are connected to WiFi when possible.
Setup and Security
It's easy to set the Netgear WiFi Booster for Mobile thanks to WiFi Protected setup. After plugging in the WiFi Booster to a standard wall outlet, I pressed the power button and then the secure connection button, then pressed the secure connection button on my router and waited for the LED's to flash in sync.
After a few minutes a new WiFi network appeared as an option to connect on my tablets, smartphones and laptops. The WiFi Booster for Mobile operates on the 2.4 GHz spectrum, so it should work with most routers from the past few years. My Netgear router uses dual band technology to offer 5GHz and 2.4GHz channels. Dual bands did not impact the use of this extender.
Once setup, I was able to unplug and move to another outlet without repeating the setup. I was also able to connect to another brand router with WiFi Protected setup as well. For routers without the one touch setup, there is a web setup guide available.
The network name adds _EXT to the existing WiFi network and uses the same network security key.
Range, Speed and Use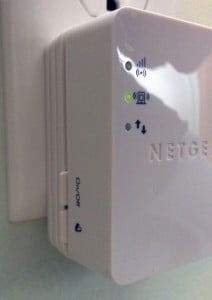 Using the Netgear WiFi Booster for Mobile is easy, and brings wireless connectivity to a greater area around my house. In testing, the new WiFi network covers the entire backyard of my house, which my router alone only covers half of. This means there's no need to use a limited LTE data plan on the iPhone, and I can now work in the shade on warmer days.
Moving the small WiFi Extender to another area of the house increased coverage in my basement, though this was not a complete dead-zone before adding the WiFi Booster.
The Netgear WiFi Booster for Mobile connects to and extends a 2.4GHz network, which means most home users will see the same download speeds on the extended network as on the router. During my month-long evaluation, I had no issues with speed or connectivity. After connecting the new network to my iPhone, iPad and various notebooks, I am able to automatically connect to the extended network when I am working in the garage, yard or relaxing on our patio.
Value
The Netgear WiFi Booster for Mobile is a good deal at $39.99. For the cost of a few month's at a higher data plan or three months of overages users can make sure they use data on their home WiFi network when possible, saving limited mobile data for use outside home.
The Netgear WiFi Booster for Mobile is available for $39.99 at Amazon and on sale at other retailers.

As an Amazon Associate I earn from qualifying purchases.