New 13″ MacBook Pro Review: Beauty Shots
It's no secret that Apple has some of the best industrial designs in the business, so I decided to shoot a series of beauty shots of my new MacBook Pro. I'm in the midst of writing a full MacBook Pro Review over at Notebooks.com, where I'll post even more pictures, but I thought the those who follow our tech musings here at GBM would appreciate these shots and the story behind them.
For the past couple of months I've been shooting a lot of photos with a MyStudio 32 from ProCyc. The seamless white background make it very easy to quickly shoot products. But the white background can get a bit boring in my opinion. So I took our a protractor, pencil and ruler and drafted my own tabletop studio that I thought would allow for more flexibility and would be better suited for shooting gadgets up close. I had a local plastic fabrication shop build my design and I finally picked it up.
I tossed my new 13″ MacBook Pro on my new contraption, rigged up a spare set of lights from my ProCyc and fired off a few frames with my Nikon D7000a (Sigma 24-70mm f2.8 lens attached). I was very pleased with the results. One reason I wanted to build a custom tabletop studio was to reduce or eliminate the amount of time I spend editing photos. I enjoy shooting photos much more than editing them, but have found myself spending several more times sorting and editing than shooting recently. If this first test run is any indication I think I've solved that problem.
All of the photos below were imported into iPhoto on my MacBook Air. I performed minimal editing- just simple crops, contrast and level adjustments in iPhoto. As much as I love CS5, I simply don't have enough hours in the day for complex photo editing for shots like the ones below.
13″ MacBook Pro Review Photos
The studio is large enough to accomodate notebooks of any size as you can see in this overall shot of the 13″ MacBook Pro. As with every MacBook Pro and MacBook Air, this model is based on Apple's aluminum unibody design. The 13″ MacBook Pro feels solid and dense when you handle it.  Things haven't changed all that much since Apple revamped its notebook design and released the PowerBook G4 back in 2001.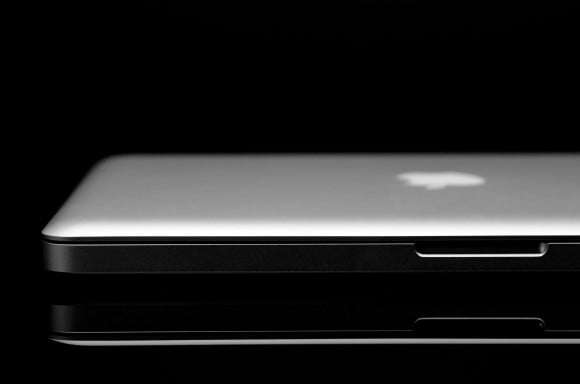 This photo of the front edge of the 13″ MacBook Pro shows a reflection of the device thanks to the reflective base. I designed the tabletop studio so that it can accept reflective or matte sheets of industrial-grade plastic so I can mix up the looks. One special attachment allows me to light laptops and gadgets from beneath the shooting surface.
As you can see in this photo, the new MacBook Pro's unibody construction is crisp and solid. The battery indicator lights up at a touch of the button and allows users to see how much juice is left. This is a feature that I sorely miss on my MacBook Air. At the time of this photo, you can see that the MacBook Pro's battery was charged to approximately 75% of its capacity.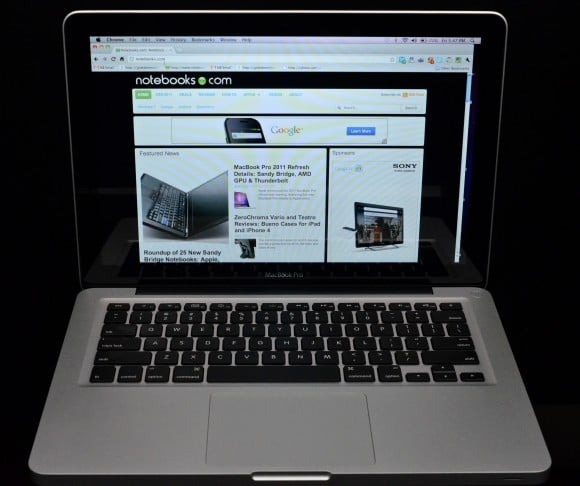 The 13″ MacBook Pro's display feels crowded with only a 1280 x 800 pixel resolution. This is perhaps one of its most limiting factors in my experience with it so far. I don't see why Apple couldn't offer a 1440 x 900 pixel display as it does with the MacBook Air. The MacBook Pro's display is glossy and has a protective glass layer that causes all kinds of glare. Apple should really offer an anti-glare option or at least the in-betweener finish that is standard on the MacBook Air.
The new 13″ MacBook Pro's port layout looks identical to the previous generation MacBook Pros with one exception. The DisplayPprt symbol is gone and a Thunderbolt is in its place. That's because that port can now connect both DisplayPort enabled monitors and high-speed peripherals, such as hard drives. The MacBook Pro is the first notebook to feature this technology from Intel.
The MacBook Pro's headphone jack doubles as a mic jack, as we've seen on previous MacBooks. Directly next to the headphone jack is the SD Card reader. The reader is capable of reading SDXC cards. One thing that I don't like about the SD Card reader is that cards hang out halfway when inserted. This is really poor design as it puts the SD card's safety at risk and prevents users from stowing their MacBook Pros in their bags without removing their memory cards first. Why Apple doesn't redesign this part of their MacBook Pros is beyond me. There's certainly room – MacBook Pros used to swallow entire ExpressCards and some netbooks swallow SD cards with ease.
The MacBook Pro's keyboard remains the same as on previous generations. The 13″ MacBook Pro's keyboard is more comfortable to use than most notebook keyboards, but it still falls short in the comfort department compared to ThinkPads.  The trackpad is as smooth as silk and multi-touch gestures work flawlessly.
It's pretty natura for Mac shoppers to compare the 13″ MacBook Pro to the 13″ MacBook Air. The MacBook Pro is significantly thicker than the MacBook Air and I recommend taking a very close look at the MacBook Air if mobility is your primary concern.
The front edge of the MacBook Air is about as thick as the MacBook Pro's display.
The 13″ MacBook Pro has a backlit keyboard, which you won't find on the MacBook Air.
Another advantage of the MacBook Pro over the MacBook Air is its wider selection of ports. The MacBook Air only has a pair of USB ports, an SD card slot and an audio jack. The MacBook Pro has all of those plus an Ethernet jack, FireWire 800 port, Kensington lock slot (opposite side) and SuperDrive (DVD/CD).
We'll update you when we post the next part of our multi-part MacBook Pro review over at Notebooks.com. In the meantime, please let us know what questions you have abou the new MacBook Pro and what you think of my new studio setup in the comment section below.

As an Amazon Associate I earn from qualifying purchases.