New Ad Pushes Galaxy Note 3 and Galaxy Gear, Calling Robin Thicke
Many of its products are category winners, but Samsung, like other companies, isn't satisfied with users buying just one of their devices. As a new advertisement profiling the Galaxy Gear smartwatch, and the Galaxy Note 3 showcase, for Samsung the future is all about promoting the way its devices work together.
In the latest commercial to support its two newest flagship products, viewers watch as a convertible with three women slowly drive down the street. The three women spend the first 5 seconds of the commercial belting out the lyrics to Robin Thicke's Blurred Lines while wearing the Samsung Galaxy Gear. While they're driving down the street a message appears superimposed over the video informing watchers that, "Robin Says Don't Hesitate."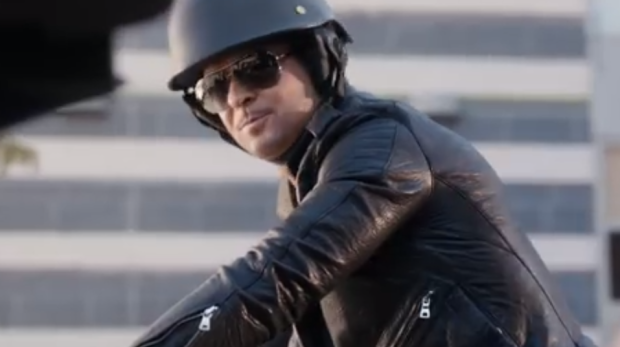 While stopped at a red light and listening to the song, a biker pulls up beside the car then smiles back at them. Noticing that the gentleman on the motorcycle is Robin Thicke himself, one of the girls in the car informs the others and snaps a picture of him with her Samsung Galaxy Note 3.
After allowing the girl to capture the picture using the device, Thicke then asks to see the device itself. He then takes the Galaxy Note 3 from her hands, pulls out its S-Pen stylus and creates a note about an upcoming music video casting call and instructions on calling a related phone number. He then hands the phone back and rides off. All three girls and Thicke are then seen checking out the Galaxy Note 3 and wearing the Galaxy Gear just before the video ends. Thicke then steps out front, dances and invites users to "Design [Their] Life Boldly."
All told, the commercial will likely be pretty effective in convincing users to at least check out Samsung's latest offerings, even if they decide against making the purchase based on other factors. While it'll likely be seen as tasteless by industry insiders who would have preferred Samsung create a more detailed ad, the ad does a great job of appealing to its intended target: teens and young adults who like Robin Thicke and are more likely to accessorize their Samsung Galaxy Note 3 with matching smartwatches.
Review: Galaxy Note 3 Review: Samsung's Most Powerful Phone
The Samsung Galaxy Note 3 took home GottaBeMobile's Editors' Choice Awards for performance and design. Our review of the Samsung Galaxy Gear wasn't nearly as kind thanks to its lack of functionality and pricing. 

As an Amazon Associate I earn from qualifying purchases.