New Add-On Brings Free TV to Xbox One
It's been a long time since Microsoft did anything to boost Xbox One's reputation as an all-in-one entertainment system. Today the company shocked everyone by announcing the Xbox One Digital TV Tuner, a little add-on that'll allow international Xbox One users to watch broadcast television.
Microsoft detailed the Xbox One Digital TV Tuner in a post earlier today on its Xbox Wire news blog. The little device might seem small, but it introduces huge changes to the way Xbox One users can get live video content today. The Xbox One Digital TV is designed to replicate the functionality that's available through the Xbox One's HDMI pass-through port. That means that users can expect to be able to use Xbox Live's OneGuide to search for content and watch shows as they air just like anyone else.
Users who have an Xbox One with a Kinect 2 sensor can also tell their Xbox One to turn to a specific channel with their voice. Users will also be able to pause live television too.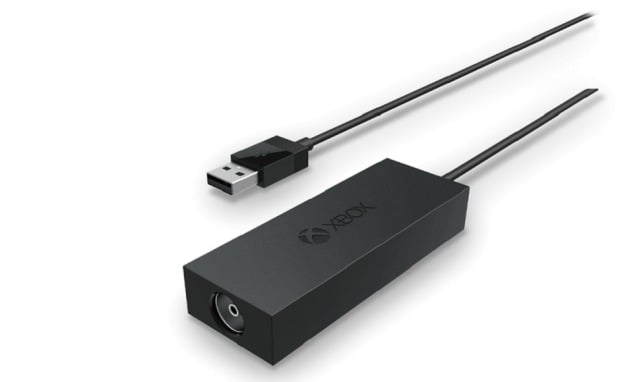 The difference here is that today, the Xbox One requires that users actually have a cable or satellite subscription before this functionality is available to them. With the Xbox One Digital TV Tuner that changes the equation some. Many Xbox One owners have already cut cable and satellite packages from their budgets, making the HDMI pass-through port and television integration on the Xbox One pretty useless. This dongle will allow those users to watch broadcast channels without a cable subscription or satellite box. In countries where its supported users will even be able to listen to broadcast radio – something the Xbox One can't do today.
The Xbox One Digital TV Tuner will understand DVB-T, DVB-T2 and DVB-C standards on launch day. About the only thing users won't appreciate is the loss of the free USB port that the Digital TV Tuner will need to plug in to.
Microsoft says that the Xbox One Digital TV Tuner will launch in the United Kingdom, France, Germany, Italy and Spain this October. That's it. For now it doesn't look like Microsoft has plans to launch the Xbox One Digital TV Tuner in the United States. That's a shame, because such an accessory tailored for the Xbox One in the United States would have definitely made the Xbox One's all-in-one entertainment mantra make more sense for those trying to ditch cable subscriptions. Many users were left scrambling to figure out how to use the Xbox One's live television features without signing up for a cable subscription when the console launched last year. Even today, there isn't a real viable way to avoid a cable subscription and watch live television on the Xbox One.
By tying live television to the HDMI pass-through Microsoft was able to ensure that a large swath of Xbox One buyers would have compatible equipment in their home. It was a way of getting around having to work closely with cable and satellite companies, many of which haven't been willing to embrace technology that frees users from the shackles of their own equipment. Depending on cable companies seriously hurt Microsoft's last attempt at getting into the living room: Media Center PCs.
Hopefully, Microsoft will release a separate TV Tuner for Xbox One users here in the United States.
The Xbox One Digital TV Tuner will cost around 29 euros when it debuts in Italy, Spain and Germany. It'll be 24.99 in the United Kingdom. That's roughly $33 here in the United States. That it costs extra on top of the Xbox One will probably rub some users the wrong way, but on the other hand it gives users the option to avoid live television or make the upgrade if they find it essential to the way they'd like to use their Xbox One.

This article may contain affiliate links. Click here for more details.