New Amazon Prime Games Discount Is A Huge Deal
No longer satisfied with merely getting console video gamers their new releases on the day that they're become available, online retailer Amazon has a new trick in its arsenal to win over the hearts and wallets of Xbox One and PS4 owners. A new Amazon Prime games discount now gets users some very compelling savings.
Amazon revealed the amazing deal on games for Amazon Prime subscribers this week on its website. Amazon Prime has offered users two-day shipping at no additional cost, book rentals and access to an enormous collection of video games for some time. This latest change is the first time that Amazon has expanded the benefits of an Amazon Prime membership into video games in a big way for some time.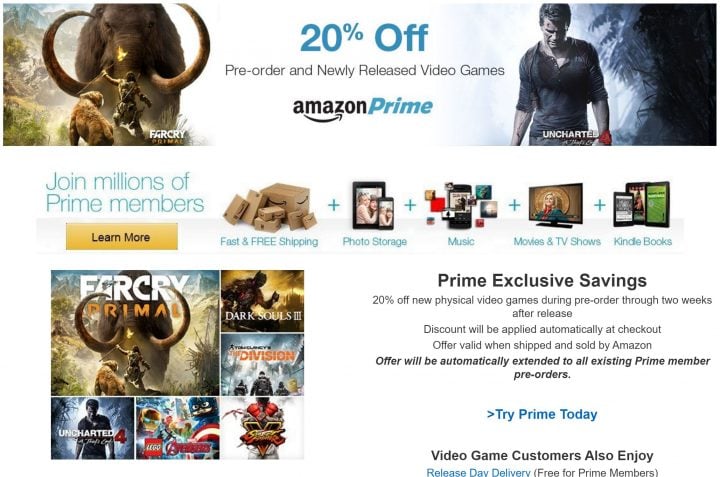 Starting today, anyone that places an Xbox One or PS4 pre-order gets 20% off the cost of their game. For an unreleased standard copy of a game on Xbox One or PS4, Amazon Prime shoppers stand to get a discount of $12. For more expensive games – those that include Season Pass content or collectible extras – shoppers stand to save even more than that $12. Additionally, Amazon says that it'll extend that discount until two weeks after the game's launch. In effect, Amazon has just made gaming as a whole cheaper – provided that shoppers maintain an Amazon Prime subscription.
Because the page detailing the savings doesn't include an end date, it seems like the savings will be a permanent addition to the long list of reasons for users to get Amazon Prime already. Besides video streaming and two-day delivery, Prime also includes same day delivery in some cities through the Prime Now iPhone and Android app, access to the Amazon Fresh grocery delivery service and streaming from Amazon Prime Music.
Amazon says that it's making the Amazon Prime games discount retroactive. Therefore, anyone who has already placed a pre-order will see the discount applied to their purchase. Those who buy disc-games through Amazon going forward within the discount period will see the 20% in savings reflected in their card; no codes are required. To be clear, Amazon isn't stacking the Prime Games savings on top of other discounts.
"If the game is discounted less than 20%, Prime members get the full 20% off at checkout. If the game is already discounted more than 20%, Prime customers get the lower price," the outlet says on its Frequently Asked Questions page. Amazon is even applying the savings to accounts using the Amazon Free Trial. The same page specifically says that Collector's Edition games are included in the 20% off discount.
Read: Should You Get Amazon Prime?
Some say that the new Amazon Prime Games discount is a way for the online retailer to fight off the growing number of discount services that are helping to buoy sales of video games at Best Buy and GameStop. Best Buy's Gamer's Club Unlocked offers users deep discounts on pre-orders. Members also get half off a strategy guide and exclusive rewards certificates. Points that shoppers rack up allow them to work towards digital downloads and more games. Games Club Unlocked costs $30 for two years.
GameStop's PowerUp Rewards Pro boosts the amount of trade-in credit that shoppers get when they sell their used games, a year access to magazine Game Informer and more points for everything that they buy. Points at GameStop can be used to purchase trinkets or credit to the Xbox Store or PlayStation Store.
It's equally possible that the new Amazon Prime games discount is a knock at digital games sales, which have increased in recent months, according to some industry insiders. By giving pre-order discounts to subscribers and free release day delivery, Amazon should be able to handily combat the convenience of pre-order digital games through game consoles.