New and Improved GBM Forums!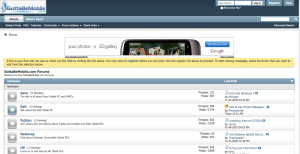 I'm very pleased to announce that the GottaBeMobile forums are back in order. Thank you very much to all of our forum members who've been patient over the past month or so as we've struggled with some technical issues. The new, improved forums are not quite perfect, but we feel they're in good enough shape to invite everyone back in.
There will be a learning curve with the new forum interface for everyone here, so please be patient and let us know what needs attention. Just about everything ported over from the old database ok, but everyone will be required to reset their passwords. If you don't get an email with reset instructions after trying to login, please check your spam folder.
As you may know, the forums started acting sporadically last month when I was away in India. Obviously, being half way around the world with a slow Internet connection and very limited time to work exasperated the problems we saw on the forums.
Matt Faulkner has been instrumental in getting the forums back in order and I can't thank him enough for his help over the past few weeks. Though you may not see him posting on the home page as often as some other GBM team members, Matt is one of the key engines that keeps GBM chugging along.
After several failed attempts at patching up the issues, I decided to take two major steps to improve the forums.
Most importantly, we moved away from WebWiz and purchased a VBulletin license. VBulletin powers some of the most popular forums on the web and has some really cool features. For example, our forum contributors can now set up polls, which allow others to provide feedback without having to type out a response. One of the first polls asks if its worth trading in a Latitude XT for a Latitude XT2.
The second big move is that GottaBeMobile.com is now hosted on a very robust server with a lightening fast connection. We're seeing a huge improvement in speed and reliability compared to our previous solution. The support team over at Pacific Rack absolutely rocks.
Until yesterday we were using the Rackspace Cloud, which offered us the flexibility of running both IIS and Linux applications. Unfortunately, the Rackspace Cloud has been the bane of my existence recently. As you've seen, page loads have been slow, the GBM home page was MIA at times and the forums have gone up and down like a yo-yo. From what I was told, the Rackspace Cloud is oversold, which means more and more sites are sharing resources. Several notable tech sites, including TechCrunch have been impacted by the instability of Rackspace Cloud. On top of poor performance, the Rackspace Cloud support team has been hit or miss since their resources are stretched thin.
We look forward to geeking out with you in the forums!