New Android L Release Feature Revealed
There are many new features and changes coming to the Android L update or release, which is expected to be called Android 4.5 or 5.0 once it arrives later this fall. Today though, one of those features has seemingly been confirmed by Google themselves.
When it comes to having a single tablet for an entire household, having multiple user accounts is something many users wanted. Back in 2012 with Android 4.2 Jelly Bean Google introduced a brand new "multi-user" mode for tablets, allowing multiple accounts on any tablet, but this feature wasn't extended to smartphones.
Read: How to Use Multiple User Accounts in Android 4.2 Jelly Bean
Android 4.2 Jelly Bean delivered multi-user accounts, but it wasn't the best implementation, took up extra storage space on tablets, and had a pretty big impact on overall device performance. Google's been working to improve this and fixed some problems with the Android 4.3 release, and now we're hearing Android 4.5 or 5.0 "L release" will not only improve multi-user or "kids mode" but also bring this often requested feature to smartphones.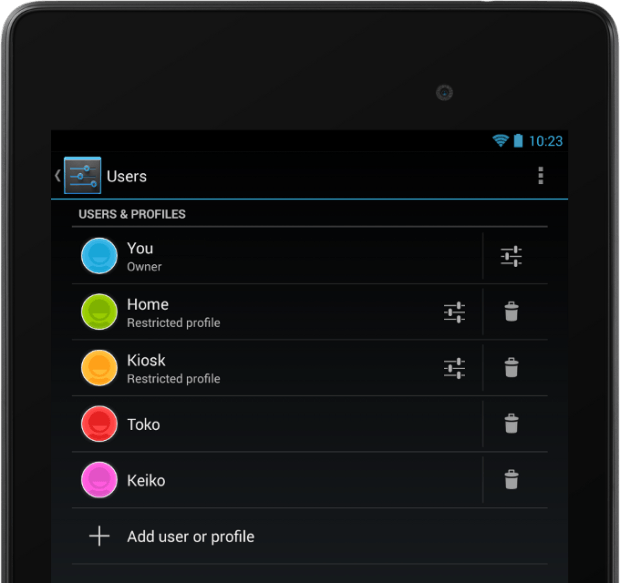 Earlier today an eager Android smartphone user posted a question to the Android issue tracker complaining about the lack of multi-user mode for smartphones, which was quickly noticed by a Google developer. The Google employee answered his question and revealed a new feature which will debut with the Android L update, then closed the issue from the tracker and marked it as resolved.
Essentially this user argues that more and more kids are using their parents smartphones for apps and games, not to mention sharing phones between friends. With the growing 32 and 64GB of storage options (and micro-SD support) on Android smartphones and tablets, multiple user accounts or even a kids mode should be included on smartphones, not just tablets. Here was the reply from one Google developer.
The development team has implemented this feature and it will be available as a part of the next public build.
It's hard to know exactly what this means, but from that short statement it looks like multiple user accounts or at least a new kids mode will be introduced with the "next public build" of Android. We're assuming he means Android L here, which is on track for a fall release date, but can't be sure.
Recently we've seen more and more manufacturers add a kids mode to their devices, like the Samsung Galaxy S5 or LG G3, to allow parents to share a phone with their kids without giving them access to the entire device, or the Play Store to make accidental purchases. This is a step in the right direction, and will be coming soon to the next release of Android.
This will be helpful for families that share one device, parents who often give their devices to kids to play games like Angry Birds or learning apps, and of course in the business sector. Being able to have an account for business and a secondary account that separates all apps, content, and information for personal use.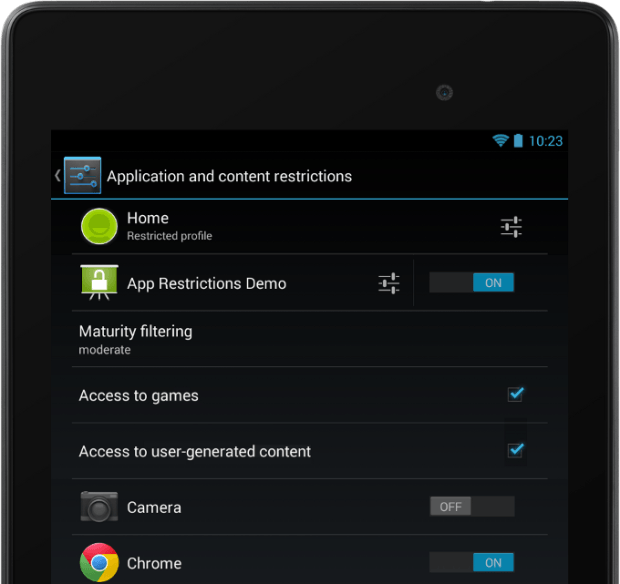 Letting users have a separate sign-in and password-protected account on their smartphone for person use and business use will be extremely useful, handy, and be good for security reasons. Not to mention help those separate their work and personal lives and essentially sign-out of work once the day is over.
This is a feature many are expecting to also arrive in iOS 8 when Apple releases the final build on the iPhone 6 next month, but so far it's still yet to be available in the public beta. Having multiple accounts or a kids mode is a great option not only for tablets, but also for smartphones, and users can look forward to this coming soon with the next version of Android.