New Android L Update Arrives for Nexus Users
Back in June at the annual Google I/O Event Android users and developers received an early look at the next version of Android for the first time in over three years. This marked a major shift in how Google releases new versions of Android.
Google proudly revealed some of what's coming in the Android L release later this year, then shocked everyone by releasing an early Android L beta preview for developers. This marks the first time Google's allowed users or developers to beta test a version of Android before actually releasing it to the public. Last month Google said no updates or beta 2 releases would arrive for Android L, but today they've done the opposite and a new build is available now.
Read: 5 Hidden Android L Features & Tips
This afternoon Google announced the Google Fit SDK for developers to start working on health and wellness features for Android, and along with it came a brand new version of Android L. Google Fit will only work on the Android L release, as expected, but we have all the details below.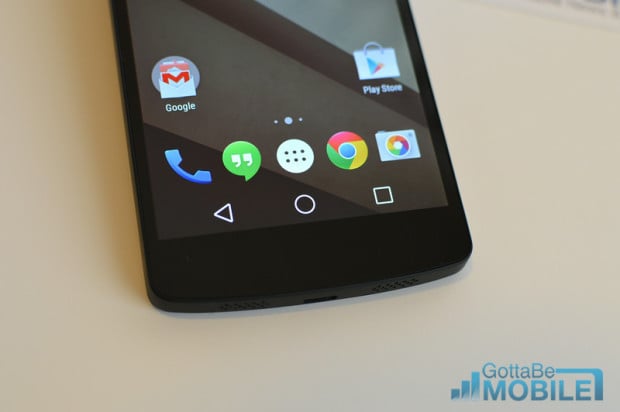 This is the first time Google's allowed the public access to Android before its release, so we weren't really sure how everything would go. Apple's iOS 8 Developer preview has seen an array of updates and changes, and many expected Google to do the same. However when they confirmed no updates were coming many were wondering how they'd fix bugs and solve problems before the release this fall, and now we may have the first sign of more Android L updates possibly coming soon.
The first and official release of Android L for the Nexus 5 and Nexus 7 was listed as build LPV79, but today Google issued a quick update that's only available from the Google Fit SDK Page. Devices will still be listed as running Android L, but the version has been bumped from LPV79 to LPV81C.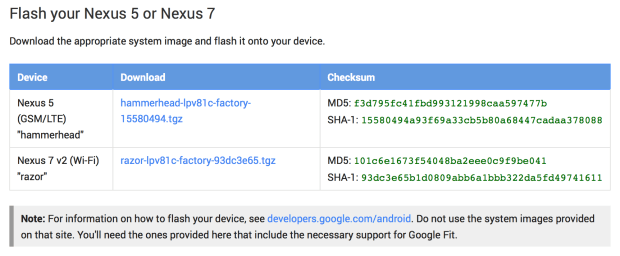 As you can see from the build number this is an extremely small increase when it comes to a build number, so we're not expecting anything to major here. In fact, the new Android L update was compiled by Google just two days after the original that we've all enjoying for the past month or so.
Read: How to Install the Android L Release Beta Right Now
The new version of Android L that was released today is still only available for the Nexus 5 and Nexus 7 2013 tablet, and is a factory image that needs to be flashed using a PC. The link above will help you flash the original, or the new Android L update released today.
According to the download page the only changes are to allow support for Google Fit, so again, we're not expecting any major changes, improvements, or new features to be debuted for Android L with this update. We've been hearing Android L has some issues with AT&T sending messages, most notably MMS, but that doesn't appear to be resolved either.
What this means is Google's still fine-tuning Android 4.5 or 5.0, the "L Release" and aren't ready to reveal more features at this time. We're not sure if Google will actually release an Android L beta 2 or not, but this is as close as it gets for now.
This is technically the second release of Android L for the Nexus 5 and Nexus 7, but it's hard to guess if more will be coming. Google specifically said no more updates would be coming, but over the course of the next few months as Android L progresses to a final stage where it's ready for the public, we may get another version.
Currently Android L is expected to be named (possibly Lollipop) and be released this fall along with the rumored Nexus 6 and Nexus 8 tablet. There's no timeline laid out yet, but previous Android releases have arrived in October or November. There are tons of changes, enhancements, visual overhauls, and tweaks coming to Android L, along with multiple user accounts for smartphones, so this will be a major update everyone can look forward to.

As an Amazon Associate I earn from qualifying purchases.