New App From Google Lets Android Users Track Santa
To celebrate the holidays every year, Google helps families track Santa on his trip around the world and this year Google has an Android app to help track Santa's ride.
The Google Santa Tracker is free in the Google Play Store, and it works on Android smartphones and tablets. Right now the app doesn't do much because Santa's ride hasn't started yet. On December 24, however, the app will show where in the world Santa is delivering presents to good girls and boys.
Once Santa's journey begins, the app will show where the sleigh is currently delivering presents, and where it will travel next. The app will also let families see how many presents Santa delivered so far in his trip, as well as how long he will spend in each city.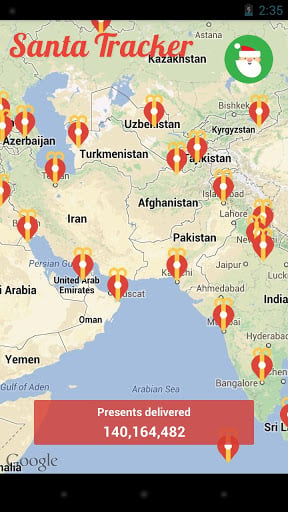 Google has helped families track Santa's progress on his Christmas Eve journey every year since 2004. This year is the first time that Google is providing the data by itself, however. Previously, Google teamed up with NORAD to provide the flight data.
There is no Google Santa Tracker app for the iPhone or iPad, but Google does offer a Santa Tracker website that works on iOS devices as well as desktop computers. The website also includes a few games that users can play on their iPhone and iPad. The games work better on the iPad, because the menu bar gets in the way of the games on the iPhone, even on the iPhone 5.
The Santa tracking map will likely work on the iPhone and iPad on December 24 as well.
On the desktop website, Google also lets users send messages from Santa to their friends and family. The website will let anyone send the messages to any phone in the U.S. between the hours of 8 a.m. and 9 p.m. The website also lets users send the messages over email and Google+.

As an Amazon Associate I earn from qualifying purchases.