New Apple iTunes Offering Coming Tomorrow
Apple's home page is currently overtaken by a message that points to a new product offering tomorrow. Apple recently introduced several new features, including social networking, in iTunes 10.1, the latest version of the company's digital storefront and media player. The new iTunes offering comes just in time for the holiday shopping season.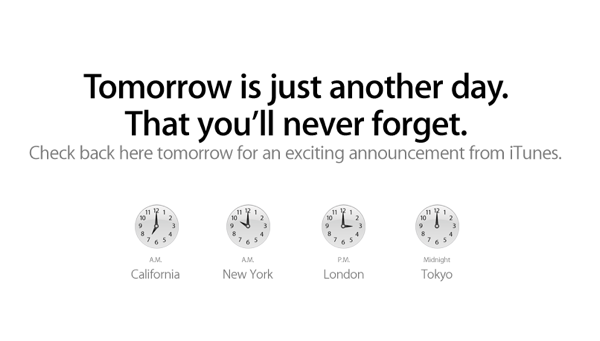 The message reads "Tomorrow is just another day. That you'll never forget. Check back here tomorrow for exciting news from iTunes."
Some have hinted that Apple will be offering something for free, but I highly doubt that as Apple is looking to maximize sales during the busy holiday season. I'm guessing it'll be something that adds value to digital music purchases or makes it easier to enjoy content on multiple devices.
Apple may be introducing a cloud music service that allows users to stream their iTunes purchases to any device. The company has built a massive data center and is faces increased competition for purchased content from Internet radio services like Pandora and Slacker.
Apple's also set to introduce iOS4.2, a version of its mobile operating system that will finally rid the iPad of iOS3. The new iTunes product or service may be geared towards mobile devices, such as the iPhone, iPod Touch and iPad.
The Apple digital shopping experience can be disparate at times, especially with the introduction of the new Apple TV. The shopping experience is different on each device and content can be difficult or impossible to access on other Apple products. For example, a user's iTunes account can only be active on five Macs or PCs at a time. Movie rentals purchased on an Apple TV cannot be viewed on other Apple devices, a pain if you decide to move off the couch before you've finished your rental.
Apple will update its home page with more information at 10AM EST/ 7AM PST Tuesday.

As an Amazon Associate I earn from qualifying purchases.