New Apple TV Details Emerge
The new Apple TV was announced and unveiled during Apple's iPhone 6s event earlier this month, but more details about the new set-top box are trickling in now that developers are getting their hands on the new device.
Unsurprisingly, the new Apple TV received a huge refresh over the Apple TV 3, coming with a much faster processor, a new user interface, an all-new remote, and a ton of new software features like Siri integration and gaming support.
The new remote is perhaps the biggest feature, coming with Bluetooth technology and having a built-in glass trackpad and microphone. It's a huge step up from the slim aluminum remote that we've known for quite some time. In fact, the Apple TV remote has remained unchanged since 2007, so it was surely time for an update.
The new Apple TV won't release until later this fall and there's currently no set release date for the streaming box yet, but app developers are starting to receive their Apple TV developer units where they'll use the box to test out their Apple TV apps, since the new Apple TV will now come with an App Store where users will be able to download all sorts of apps.
With these developer units now out in the wild, we're learning more details about the new Apple TV and how various features will work.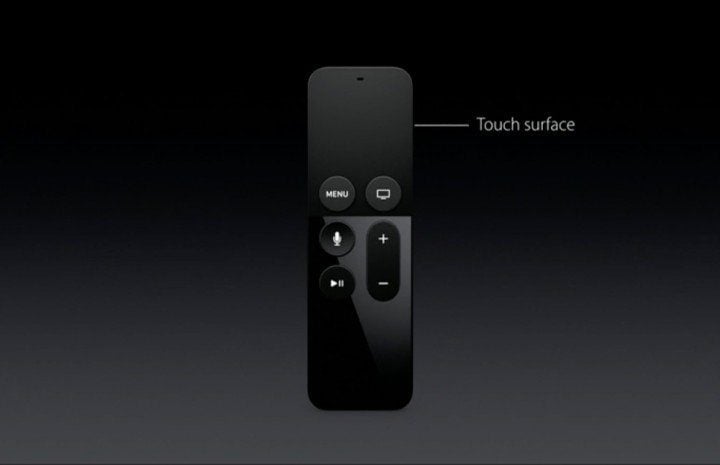 App and game developer Steve Troughton-Smith tweeted about some his experiences with the new Apple TV and revealed some things that Apple didn't show off during its keynote.
One thing that's rather interesting is that the old Apple TV remote still works with the new Apple TV, which is a bit interesting to hear since the new Apple TV remote operates over Bluetooth instead of using an IR sensor like the old remote does. This means that the new Apple TV has an IR receiver, most likely so that users can still use a universal remote with the box if they want to, which is good news for home theater junkies who would have way too many remotes otherwise.
Read: New Apple TV vs Apple TV 3: What's New
Furthermore, the new Apple TV remote can sense when you pick it up and will automatically turn on the Apple TV if it was in sleep mode. This prevents you from having to press a button on the remote to wake up the box and wait for it to become usable.
As far as the remote doubling as a game controller, Smith says that it's rather "dire" with just a D-pad, accelerometer and one button, although the trackpad can be used as a button as well. Essentially, some games might be better off with a third-party controller, so we should see some companies come out with solutions for this soon enough.
Read: 7 Exciting Apple TV Apps Coming at Launch
The new Apple TV still sports a familiar user interface that Apple TV users will know and love, but it has been slightly re-designed with a simpler look that corresponds to iOS 9.
Perhaps the biggest software feature is the addition of Siri capabilities, which will allow users to perform voice searches for a movie or TV show across multiple services at once, including Netflix, Hulu, HBO Now, and Showtime.
Not only that, but you can also be really specific with your voice searches and tell Siri to search for something like, "James Bond movies only with Sean Connery."
The outer design of the new Apple TV remains largely the same, though, coming with the same all-back squircle design. It has the same length and width, but it's almost an inch taller this time around, which is most likely there to fit in more components.

This article may contain affiliate links. Click here for more details.