New Apple TV vs Roku: 5 Things You Need to Know
Apple has opened up purchases for the new Apple TV, allowing you to buy the new set-top box right now, but here's how it compares to the Roku 4.
The Roku 4 is also a new addition to the streaming set-top box market, and it gives the new Apple TV a run for its money, so if you're looking to buy a new set-top box and aren't loyal to any particular brand, you might be eyeing either the new Apple TV or the Roku 4.
Both devices offer similar features in a way, and the new Apple TV isn't the first set-top box to come with gaming capabilities. However, the new Apple streaming comes with an all-new remote that has a built-in trackpad and motion sensors, Siri capabilities, gaming support, and a dedicated Apple TV App Store to download apps and games right onto the device.
It's certainly an overhaul over the previous Apple TV model, and that's expected when the company hasn't touched the Apple TV since 2012.
However, while the new Apple TV may seem like the cool kid on the block now, Roku isn't afraid to provide a little bit of friendly competition, and the Roku 4 even has features that the new Apple TV doesn't have.
Here are five things you need to know about the new Apple TV vs Roku.
App Selection
Of course, one of the biggest features of the new Apple TV is its native App Store, which lets app developers submit apps to have on the Apple TV and users can download them straight to the device, just like on iOS.

This means that a ton of apps will be available for the Apple TV has time goes on. The selection may be low at first, but it will eventually grow.
The Roku 4, on the other hand, doesn't have a dedicated app store per se, but rather a channel store that acts similarly to an app store. Roku says that there are over 2,500 channels that you can choose from, including Netflix, Sling TV, Spotify, Rdio, Hulu, and Amazon Instant Video (which isn't available on the Apple TV).
2,500 channels is a lot to choose from, but we reckon that number will eventually be shattered by the Apple TV App Store at some point.
Gaming
Gaming on a set-top box is nothing new, as the Roku 3 has had gaming support and even a motion-sensing remote to go with it. Of course, the new Apple TV could trail a new path for gaming on a set-top box, but it's still too new of a product to see where that goes just yet.
Apple showed off a couple of games during its keynote last month when it announced the new Apple TV, and games like Crossy Road, Guitar Hero Live, and Disney Infinity will be able to be played on the Apple TV to your television.
The gaming capabilities of the Roku look to not be quite as intricate as the new Apple TV, but nonetheless, it's there. We'll have to wait a bit longer to see which set-top box can truly perform with gaming, but Apple has never failed to take the gaming crown before, especially on iOS.
Voice Search
Both the new Apple TV and the Roku 4 come with voice search capabilities, but the new Apple TV has the advantage, since it uses Siri technology, which can do a lot more than just perform basic searches for TV shows and movies.
Siri on the Apple TV can respond to searches like, "show me Batman movies with Christian Bale." So it can not only do basic searches, but it can also perform rather advanced searches to get you specific content that you're looking for.
The Roku 4 isn't quite as advanced when it comes to voice searches, but the feature is at least there, and it's a feature that's still a premium one when it comes to streaming boxes.
4K Support
Here's where the new Apple TV and the Roku 4 really differentiate. While the new Apple TV is a brand new device, it surprisingly doesn't have 4K capabilities, while the Roku 4 does come with 4K support.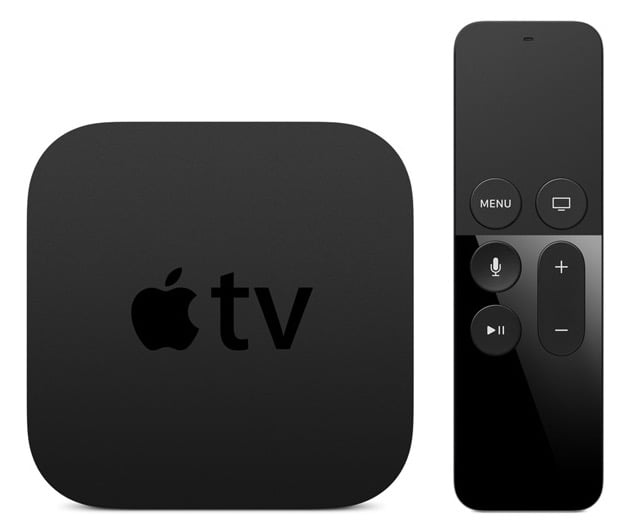 Of course, 4K content in general is lacking right now, which is something that will change over the next few years, but it's certainly telling that the new Apple TV doesn't have 4K support.
However, it's very likely that Apple's new set-top box has the hardware to easily support it, so it could just need a software update in the future that will flip 4K support on without any problems, and that's very likely the case for the Apple TV.
But the Roku 4 wins out at this point, supporting 4K right out of the box.
Price
The new Apple TV has a starting price of $149, which is way more than what the Apple TV 3 is priced at ($69). This is justified, though, as the new Apple TV is a huge overhaul over the Apple TV 3.
The 32GB Apple TV is $149, while the 64GB model is $199. Compared to the Roku 4, the Apple TV is just slightly more expensive than the $129 Roku 4, which only has 256MB of built-in storage, but has a microSD slot to expand the storage way past 64GB.
Price is a big concern for users, but the slight difference in price between the Roku 4 and the Apple TV isn't a huge enough deal for there to be a clear winner when it comes to cost.