New Apple TV with 1080P Support, $99 Price Launching Today
Apple will introduce a new Apple TV today, along with the iPad 3.
The new Apple TV will support full 1080p HD at the same $99 price, according to a report from 9to5Mac tipster, Mr. X. They will also release a new $39 accessory for the Apple TV.
Apple will probably upgrade the new Apple TV today with minimal changes in form factor. Besides the higher resolution output, it may also have Bluetooth 4.0 and a more powerful processor.
Read: Are 1080P HD iTunes Movies On the Way?
The Bluetooth could signal what the new $39 accessory might be. Expect something like a special remote with keys to enter text or a mic for Siri integration. We might instead see a cable letting you connect to displays that don't have HDMI ports.
The B82 might have nothing to do with the Apple TV. Might Apple release a new dock or case for the iPad?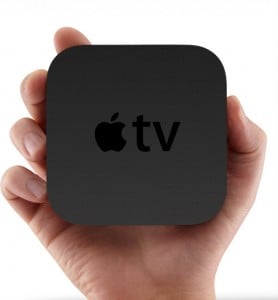 The Apple TV's new model number is MD199LL/A – J33 BEST -USA. The mystery accessory comes with a model number of B82.
The Apple TV streams video rentals from Apple iTunes and from your Mac or PC running iTunes on the same network. You can also watch Netflix, MLB TV, YouTube, NHL Hockey and more. User can stream their music from iTunes Music Match too.
If you have an iPad, you can use AirPlay mirroring to view the content of your iPad screen on the Apple TV hooked up to a TV. This makes the Apple TV a great entertainment or presentation tool for iPad users.
OS X Mountain Lion will also allow AirPlay streaming from the Mac when it launches later this year. The higher resolution would be much appreciated by users that want to mirror their desktop without lowering their resolution to 720P. You can see AirPlay for Mac in action in the video below.
Apple introduced the Apple TV first in 2006 with light sales. When they introduced a smaller form factor Apple TV for only $99, the device sold better graduating from an Apple hobby to a serious consumer media device. AirPlay mirroring turned it into a great iPad accessory.

This article may contain affiliate links. Click here for more details.