5 New Apple Watch Delivery Details
The first Apple Watch delivery dates arrive tomorrow April 24th, and many users who placed orders at 12:01 or 12:03 AM when Apple Watch pre-orders started are still waiting for news about an Apple Watch shipment.
After collecting user reports and speaking with Apple Support we can share a collection of Apple Watch delivery details that will at least inform you of what's going on, even if we cannot tell you when your Apple Watch will arrive.
Read: How to Check Apple Watch Order Status
Unlike most new Apple products, there is a wide range of Apple Watch combinations that complicate the manufacturing and delivery process. It appears that the 42mm Space Gray Apple Watch Sport and the 42m Apple Watch with Classic Buckle might miss the first day of the delivery window from Apple. We're also hearing from users who ordered a black Sport band that many are not shipped yet.
If you are waiting for your Apple Watch to ship or if it shipped and you cannot be at home, here is what you need to know about Apple Watch deliveries.
Apple Watch Email Offers More Questions
Late last night Apple sent out an email with the subject line, "Your Apple Watch Order", but it turns out this was only to tell people that they had an Apple Watch order and to re-iterate the delivery date. Apple assured buyers, "We're working on your order." and offered links to learn more about what the Apple Watch can do and reminded users what to do before the Apple Watch arrives.
There is some speculation that the email is a signal that the recipients will not get the Apple Watch on April 24th, but there are scattered reports of users who got the email and who now have shipping information that indicates an April 24th Apple Watch delivery.
Apple Support Isn't Optimistic Or Always Right
This morning after asking Apple Support about the status of a 42mm Space Gray Apple Watch Sport order placed at 12:03 AM the support person stated that users without shipping information will not receive the Apple Watch on April 24th.
This is frustrating for users who stayed up late to order, but thankfully Apple Support is not always correctly informed. After this conversation we discovered other users reporting the shipments are still taking place with April 24th deliveries coming in from UPS.
Apple Watch Still Shipping
The Apple Watch is still shipping according to reports on Reddit and on Twitter, but we are starting to see some dates slip to April 27th.
There is a chance that this will still arrive on Friday as UPS logistics can shift the delivery date around as items move from one area to the next.
Even with shipments still appearing, and with some for April 24th, not every user is going to get the Apple Watch on day one, even if they ordered in the first wave of deliveries.
Some Early Apple Watch Shipments
Production is up or demand is low for some models that are now shipping early. We are seeing reports from users in the second batch of Apple Watch orders report that Apple plans to deliver the watches well ahead of the May delivery dates. Apple tells Buzzfeed,
"We're happy to be updating many customers today with the news that their Apple Watch will arrive sooner than expected.Our team is working to fill orders as quickly as possible based on the available supply and the order in which they were received. We know many customers are still facing long lead times and we appreciate their patience."
The latter part of this statement acknowledges the wait that buyers of some models still face.
Pre-Sign for Apple Watch
The Apple Watch ships signature required. You can choose to pre-sign for your shipment in the order status area of the Apple Store. If you cannot find the form there you can also use the MyUPS app to release the  package.
Read: How to Prepare for the Apple Watch Delivery
On Reddit a user also uploaded a copy of the UPS pre-sign form that you can fill out. The PDF is available to download from Google Drive.
8 Best Apple Watch Productivity Apps & To Do Lists
Clear Apple Watch App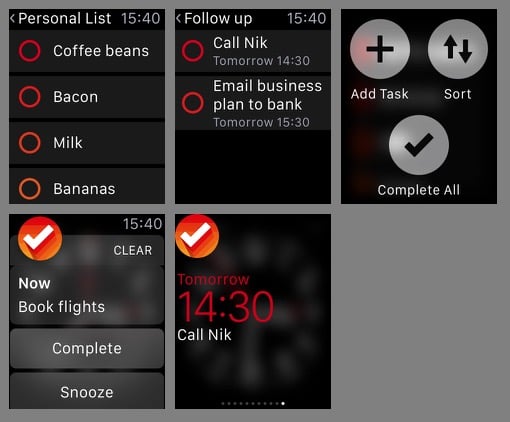 Clear is a simple and focused productivity app that focuses on helping you prioritize your to do list and clear out the tasks when you are done.
With the Clear Apple Watch app you can quickly see your personal to do lists, see what you need to do next and get reminders for your tasks on the Apple Watch with a glance. There are also options to complete or snooze tasks from your wrist.
Clear syncs with iPhone and there is also a Mac app so your list is available wherever you are. Clear is $4.99 in the iTunes App Store.

As an Amazon Associate I earn from qualifying purchases.