New Assassin's Creed Game for Xbox 360 and PS3 Surfaces
Thanks to a new league we may finally know the name of the Assassin's Creed game coming to the Xbox 360 and PS3 alongside Assassin's Creed: Unity later this year. Reportedly, the game is simply called Assassin's Creed: Rouge.
Our knowledge of Assassin's Creed: Rogue doesn't come from Ubisoft. Instead, a screenshot taken from Swedish video game retailer World of Games revealed the upcoming title and release date for the game. Apparently, Xbox 360 users and PS3 users can expect Assassin's Creed: Rogue to début as the same time as Assassin's Creed: Unity: October 28th.
Unfortunately, the site didn't reveal much about the game or the game's story. Gaming news website IGN is speculating that Assassin's Creed: Rogue and Assassin's Creed: Comet are in fact the game. Supposedly, leaks earlier this year indicated that Comet is a direct sequel to last year's game Assassin's Creed 4: Black Flag. Reportedly, buyers will play as a Templar living in New York in 1758. That's the time period before Assassin's Creed 3.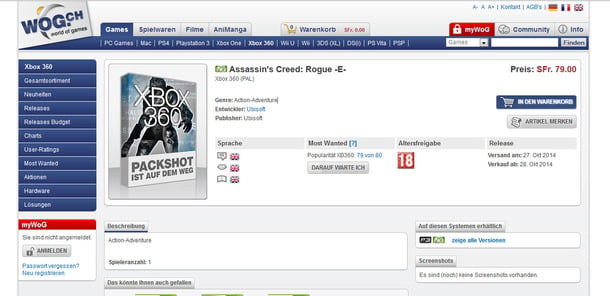 Ubisoft, who develops the Assassin's Creed series of games, made it pretty clear that it had plans to introduce a standalone Assassin's Creed game. The company has already announced Assassin's Creed: Unity. It skips America and is set in France during the same time as the French Revolution. Since revealing the game's plot Ubisoft has talked a lot about redesigning large portions of Assassin's Creed so that it would be a better experience than years prior. For example, Assassin's Creed: Unity players no longer have to look for bales of hay when they need to get down from a seriously tall building. It being made specifically for the Xbox One and PS4, users can expect better graphics from the game too.
Read: New Assassin's Creed: Unity Video Reveals Key Travel Changes & More
What we can expect from Assassin's Creed: Rogue remains unclear. Hopefully, Xbox 360 and PS3 users will find the game every bit as enjoyable as last year's version of the game. If Assassin's Creed: Rogue is Comet then we can expect that many of the pirating mechanics that users loved in Assassin's Creed 4: Black Flag back for this game.
Making a game specifically for Xbox 360 and PS3 users makes sense because Unity is only headed to the Xbox One and PS4. That both of these games sell well is essential to the survival of the franchise as a whole. Ubisoft has been battling the perception that it releases way too many Assassin's Creed games for years. Making one game a year is bad enough. Releasing two games and then having one of them not hold up to expectations would be seriously embarrassing.
By all accounts the Xbox One and the PS4 have dominated sales charts. Really, they've done rather well considering most industry watchers considered the gaming console to be a relic, a remnant of now a long-passed way of thinking about video games in the living room. Instead, the Xbox One and PS4 are selling pretty swiftly, the Xbox One less than the PS4, but decently well just the same. So too are the Xbox 360 and the PS3. By releasing a game for all four systems Ubisoft should be able to deliver an Assassin's Creed experience that's forward thinking enough to for a next-generation experience and another Assassin's Creed experience that will at least be available to millions of last-generation console owners around the world.
Presumably, we can expect more of the same in Assassin's Creed: Rogue. That means the game should cost users $59.99 with a separately sold season pass so that users can pick up some add-on downloadable content.

This article may contain affiliate links. Click here for more details.