New Assassin's Creed Rogue Trailer Reveals What You Can Expect
Players of Assassin's Creed Rogue, will team up with past series stars and more as they attempt to seek out and kill any member of the Assassin Order, as a recent trailer posted by Ubisoft recently revealed.
After revealing Assassin's Creed Rogue for the Xbox 360 and PS3 shortly before Gamescom 2014, developer Ubisoft gave users their first real glimpse of gameplay last week. In the video, users are treated to a ton of Assassin's Creed Rogue gameplay and their first look at The Morrigan, the ship that they'll command in the icy waters of the North Atlantic Ocean.
In Assassin's Creed Rogue, users will play as Shay, a member of the Assassin Order who is turned by the allure and corruption of the Templars, sworn enemies of the order he originally joined. Throughout the game players will use a combination of Assassin tactics from previous games and the blatant fire power of the Templar Order.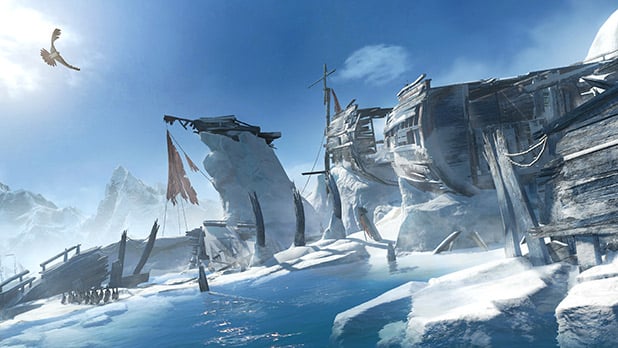 Xbox 360 and PS3 users will be able to explore the waterways around the upper American colonies and into Quebec just as the Seven Years War is determining the fate of the area. That being said, users will spend a ton of time on land and at sea. This trailer only gives us an in-depth look at the gameplay users can expect on the high seas though. As the trailer explains it, users who played the last game in the series – Assassin's Creed 4: Black Flag can expect a very different ship experience. Mostly that's because the Morrigan comes fully loaded with all of the things it needs to take down enemy ships. Because of Canada's climate an ice breaker sits outside of the Morrigan like a giant ram – which is what Ubisoft is hoping players will use it as for.  Front facing canons, mortars, upgraded armor and burning oil make the ship more formidable than the Jackdaw could have been even when it was fully upgraded. That's not by mistake – Ubisoft apparently wants the ship to feel like the Templar Order has spared no expense in hunting down and exterminating the Assassin Order.
Exploring the high seas won't be nearly as uneventful as it was in the game's immediate predecessor. Enemies will be able to board the Morrigan at their will, pretty much. When that happens, users will need to take certain steps to defend their ship or risk dying. This feature alone is a big change from Assassin's Creed 4: Black Flag. Ubisoft didn't exactly make it clear if players could do the same to enemies without having to weaken them first.
One key change users will notice immediately is in how their character is damaged by the environment they're in. In previous games the only real way players could be harmed were by enemies or a few animals. In Assassin's Creed Rogue diving in cold water slowly harms Shay. Ubisoft doesn't come right out and say that it added this for realism's sake, but it clearly did. Swimming in warm water shouldn't harm players too much.
Even with these new environments, story and gameplay elements, it is very clear that Assassin's Creed Rogue is a follow-up to both Assassin's Creed 4: Black Flag and Assassin's Creed 3. The game's developers actually come out and say they, " saw this as [their] chance to close out the North American saga." That's key, because even with all of these new features Rogue will be playing second fiddle to Assassin's Creed Unity, the new Assassin's Creed title coming exclusively to the Xbox One and PS3 in October. To get that version of the game, users will have to upgrade consoles. Likewise, in order to play Rogue, users will need to still have a last-generation console plugged into their television.
Assassin's Creed Rogue arrives on store shelves on November 11th.

As an Amazon Associate I earn from qualifying purchases.