New Assassin's Creed Unity Release Date is Bad News for Xbox One Buyers
Ubisoft is changing the Assassin's Creed Unity release date, forcing some gamers to rethink their plans for games this fall and ensuring that at least some Xbox One owners will have a very difficult decision to make later this year.
Ubisoft confirmed that it was changing the Assassin's Creed Unity release date in a post on its news blog earlier today. The announcement came as a big shock, especially since Ubisoft had been showing the game at trade shows and revealing tons of video footage from the game's campaign – something developers don't do if their title is running behind schedule. The new Assassin's Creed Unity release date is November 11th.
Ubisoft is being very clear about why it delayed the game two weeks saying, "As we got close to the finish, we realized we were near the target but still needed a bit more time to hone some of the details to make sure Assassin's Creed Unity is exceptional." The post went on to thank hardcore players for sticking with the game.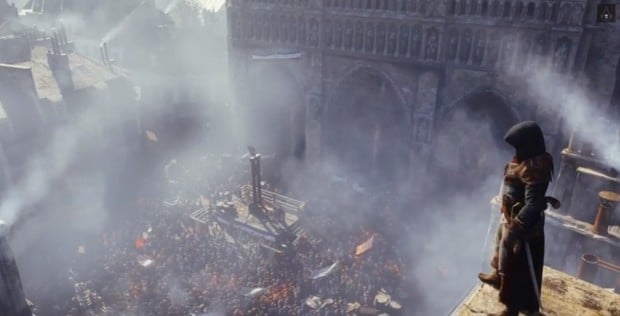 In itself, a later Assassin's Creed Unity release date isn't a big problem. Two more weeks gives owners of the Xbox One and PS4 time to finish out any unfinished games before heading out to stores to stores to buy the game. The problem comes in when you look at the release calendar for the Xbox One itself. Halo: The Master Chief Collection is scheduled to launch on November 11th – the same day as the new Assassin's Creed Unity release date. Xbox One owners are going to have to choose which next-generation game they want to play more, wait to experience one of them, or save money now so that they won't have to dip into their savings to buy both on release day.
Assassin's Creed Unity is the first new game in the long running series available exclusively for next-generation consoles. Earlier this year Ubisoft said that it was using the extra power from the newer consoles as an opportunity rebuild core parts of the game. For example, in Assassin's Creed 4: Black Flag players had to put up with some pretty ridiculous loading screens when they entered a building. Getting down from tall buildings also required users to leap into haystacks. Neither are problems in Assassins Creed Unity. Players can easily climb down from really high buildings.Interiors and outside spaces have been blended well and no longer require a loading screen before entering or exiting. Whether having to redevelop core systems for one of these changes is responsible for the game delay is unclear, but it's definitely strange that Ubisoft would bother to delay the game for just two weeks.
Read: Assassin's Creed Unity Trailer Reveals Why It's the Best Yet
As far as games go, we're pretty late into the development cycle for Assassin's Creed Unity. Ubisoft bothering to delay the game for just two weeks when it is possibly a month from finishing it won't do it any favors. It's entirely possible that some hard-core gamers will see this new Assassin's Creed Unity release date as a sign that the game won't be up-to-scratch when it does make it to store shelves.
Interestingly enough, November 11th is also the release date for Assassin's Creed Rogue, a follow-up to last year's Assassin's Creed 4: Black Flag, launching on last-generation platforms like the Xbox 360 and PS3. Whereas Assassin's Creed Unity takes place in Paris, France during The French Revolution, Rogue is set in North America and features a former assassin who has switched sides and now works for the Templar Order. Streamlined ship mechanics will feature heavily in this game, unlike Unity.
Thankfully, that title won't be coming to the Xbox One and PS4, giving some console owners a little less choice during launch week.

This article may contain affiliate links. Click here for more details.