New Assassin's Creed: Unity Video Reveals Key Travel Changes & More
French game developer Ubisoft isn't ready to reveal everything about the next installment in its series of Assassin's Creed games. That being said, it is finally ready to show off some of the new features and changes it was able to make in Assassin's Creed: Unity since it'll be released exclusively for next-generation consoles.
Ubisoft provided more details about the coming adventure in a new video posted to video game website IGN. Along with some new visuals of the game, watchers of the Making of Assassin's Creed Unity video are treated to a bit of inside game development commentary. According to the video, Assassin's Creed: Unity's developers decided that it was worth it to go back to the basics and rebuild fundamental parts of the game for the Xbox One and PS4. Mostly, that was because engineering decisions made to support the older Xbox 360 and PS3 gaming consoles limited what they could do with certain parts of the game before.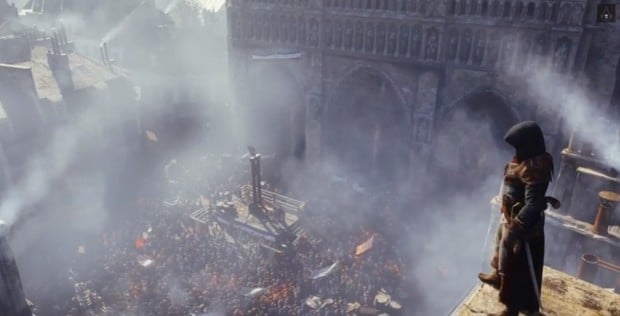 All of that starts with graphics. Pictures and video shared of Assassin's Creed: Unity's game world look absolutely stunning and we now know why. With the extra power that Microsoft's Xbox One and Sony's PS4 gaming consoles provide, Ubisoft went back and revamped the game's lighting system. Specifically, Ubisoft says it focused on making shadows in the game look better. Users will notice light emanating from lanterns and other sources plus the sun in the game world. The same hasn't been true for past Assassin's Creed games. Clouds affect the amount of sunlight players see in the game world and Ubisoft says that's completely dynamic, giving players the sense that they're in a more realized world.
That's key since the more seriously players take the game world, the more immersed in the game they become. Smoke, dust, fog and mist are all reflected in the game's lighting system too. Puddles will form on the brick streets of Paris too.
This game will be the first game in the series to feature seamless interiors. That is, when players decide to walk into a building off the street, they won't have to sit through a loading screen. It sounds like a small thing, but even in last year's Assassin's Creed 4: Black Flag users hit a loading screen the moment they walked into large buildings and interior spaces.
The video goes into a lot of detail aboutAssassin's Creed: Unity's setting too. Players are dumping the small islands and large ocean from last year's game in exchange for the urban city of Paris. To create a life-like Paris Ubisoft had to throw out its normal procedures and build a tool that could generate large sections of Paris. In the video developers are shown drawing a street and choosing a theme for that street. The tool itself generates the buildings that Assassin's Creed: Unity's players see. One Ubisoft developer describes the entire system as like working with "lego blocks".
New CGI details and actor scanning have allowed Ubisoft to create everyday characters that look more detail than they did in past games. Xbox One and PS4 players should notice there's a lot more detail in character's skin, eyes and hair specifically. Clothes should look more realistic too.  Art designers actually create a pattern of clothing and then drop a physics simulation of top of it.
Players will notice that there are tons more crowds around Paris than there have ever been in previous games too.
Xbox One and PS4 users will be able to pick up Assassin's Creed: Unity on store shelves beginning October 28th. Unfortunately, those with an Xbox 360 or PS3 will have to upgrade if they want to play the game. Those consoles will get a new Assassin's Creed game this year, it just won't be Assassin's Creed Unity. 

This article may contain affiliate links. Click here for more details.