New Batman Arkham Knight DLC Release Details Arrive
Video game developer Rocksteady Studios and publisher Warner Brothers Interactive have new September DLC release details to share for anyone still playing Batman: Arkham Knight. This information includes actual release dates for the downloadable content it detailed previously. There's also some surprises to look forward to next month.
Rocksteady and Warner Brothers announced the September DLC release details for Batman Arkham Knight with a video posted to the game's YouTube profile. The details include release information for the 2008 Tumbler Pack, the #2 Crime Fighter Challenge Pack and GCPD Lockdown, an all new story for players. In addition, Rocksteady is telling players to expect a Batman Classic TV Series Batmobile Pack, another Crime Fighter Challenge Pack and a story focused on Catwoman in October.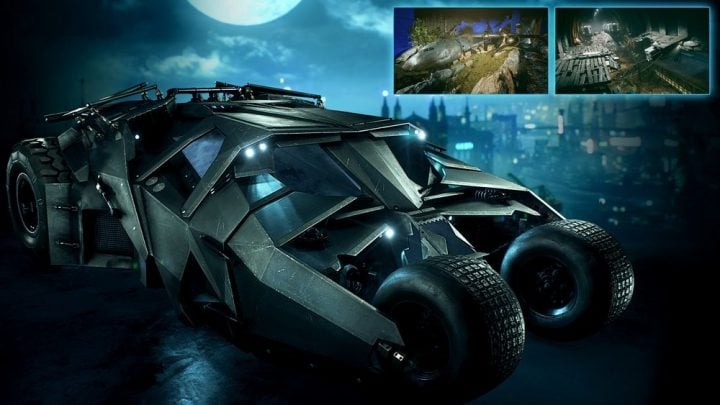 The Tumbler Pack is already available in the Xbox Store and PlayStation Store for $1.99. This pack comes with the Batmobile from the most recent series of films and race tracks that were inspired by the film franchise. Anyone can set this Batmobile to be their vehicle in the game's story mode, though it won't have as many features as the Batmobile designed specifically for the game. Also available today is the original Batman suit from Batman: Arkham Asylum. It's completely free to any and all with the game, regardless of whether they have a Season Pass or not.
September 29th is when Batman: Arkham Knight players can expect the #2 Crime Fighter Pack. This pack adds content for Batman, Nightwing, Robin, Catwoman and the Batmobile. Also launching that day is the GCPD Lockdown story that Rocksteady teased all summer. In GCPD Lockdown Batman sidekick Nightwing heads to the Gotham City Police Department to make sure Penguin doesn't escape from its cells. Presumably, these will also cost $1.99 each when they become available.
All of this content is shown in detail in a new video posted to YouTube.
Unfortunately, Rockstar nor Warner Brothers reveal when we can expect its next set of upgrades beyond October.
The Batman classic TV Series Batmobile Pack gives players the original Batmobile from the live action television shows and lets them race it through the streets of Gotham City. This car also comes with two tracks inspired by the television series. Crime Fighter Challenge Pack 2 will focus on combat and predator maps that include Batman, Nightwing, Robin and Azrael, according to today's post.
The real surprise for October is the Catwoman's Revenge story. As its name suggests, this content is set after what's happened in the game's main story. Users will play as Catwoman and have her whip and other tools at their disposal.
Batman: Arkham Knight launched to very positive reviews back on June 23rd. The games main story puts Batman and his team against dozens of heroes occupying Gotham City. Scarecrow intends to unleash his fear toxin on the entire city. Batman has to stop him by any means necessary. Besides the base game, Warner Brothers offers a Batman Arkham Knight Season Pass that unlocks six solid months of digital content for $39.99.
Both Batman Arkham Knight and the Batman Arkham Knight Season Pass are on sale through Microsoft's Xbox Store for users with an Xbox Live Gold subscription. A version of the game that includes the Season Pass is $64.99. Normally, it costs $99.
Read: How to Use & More Batman Arkham Knight Batmobile Tips
We still don't know when all of this extra content is coming to the Windows PC version of the game. Warner Brothers pulled the game from store shelves and online sellers until it could fix widespread performance issues with it. Last month Rocksteady released the first major patch aimed at solving issues with PC version of the game.

This article may contain affiliate links. Click here for more details.