New Black Ops 3 Guns & Taunts: What to Know in March
The massive March Black Ops 3 1.08 update delivers new Black Ops 3 guns, weapons, specialist gear and new Black Ops 3 taunts to the game. This is what you need to know about the new weapons and emotes while you wait for the Black Ops 3 DLC 2 release announcement.
In late March new rumors suggest that we could see an option to buy a new type of Supply Drop that includes a guaranteed new Black Ops 3 weapon using Cryptokeys or COD Points.
These are only available on the PS4, Xbox One and PC. Fans of the game will need to purchase Supply Drops in the Black Market for a chance to win the new Black Ops 3 guns, Melee weapons and taunts.
This is not the first time that Activision and Treyarch added new weapons to Call of Duty: Black Ops 3, and it will not likely be the last. In total there are five new Black Ops 3 weapons available today and four new taunts and gestures coming to the game.
On March 21st Treyarch released a major 2.8GB March Black Ops 3 update. This includes the new weapons and is known as the 1.08 update on PS4. You need to download this update before you can play online.
In addition to the new Black OPs 3 guns, melee weapons and taunts this may include the Black Ops 3 DLC 2 map files that we expect are coming to the PS4 in two weeks.
As with the Awakening Black Ops 3 DLC and the last batch of new Black Ops 3 weapons Treyarch is not bundling the weapons into the DLC 2 pack or offering them directly to the Call of Duty: Black Ops 3 season pass owners.
You can buy Call of Duty Points, but you don't need to buy them to get these. Instead you can earn Cryptokeys in the game. We unlocked the Malice Dagger in our first opening after the new weapons arrived without spending any Call of Duty Points.
A leaked file for Black Ops 3 on PC mentions an Arms Dealer that promises a new weapon in a Supply Drop and bonus Cryptokeys. We've already seen options to bribe the Black Market, but this would be a new weapon and Cryptokeys. The rumor shows a 1,000 COD points or 150 Cryptokey price. 1,000 Call of Duty Points is $9.99, with a bonus 100. For $39.99 you could get 5,000 COD Points.
We don't know of a way to use the new Black Ops 3 DLC weapons without unlocking them in supply drops yet, but occasionally you can play a local game and use them with the right settings. All images below from chaosxsilencer gameplay, with videos embedded.
Here is what you need to know about the new Black Ops 3 guns, melee weapons and gestures that arrived in March 2016.
New Black Ops 3 Gun - HG-40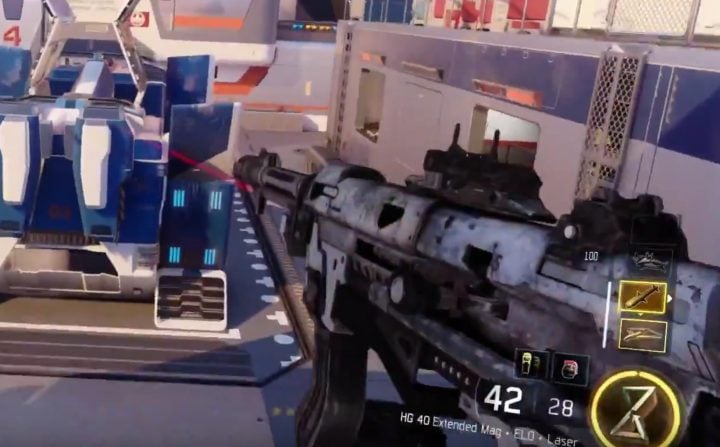 There are two new Black Ops 3 guns in the March Black Ops 3 update that arrived on March 21st. You will need to install the latest hotfix to turn on the new guns in the Black Market.
The HG-40 is a reskinned MP-40, which is a popular weapon from World at War. This is a SMG that has already made an appearance in the Call of Duty: Black Ops 3 Zombies mode.
Watch the video above to see the HG-40 gameplay in action so that you can see how it handles. The gameplay footage includes commentary that calls this "phenomenal" and shares that it plays just like the MP-40.
The official description is, "Full-auto submachine gun. Blitzkrieg your enemies and protect your squad with the versatile weapon that packs a punch."
Long Barrel and Extended Mag are very useful HG-40 attachments.

As an Amazon Associate I earn from qualifying purchases.