New Community Blog OneNote 2006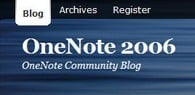 AdminID and Sid of OneNotePowerToys and NoteTalkers have started a new community blog "experiment" around their passion, Microsoft's excellent note-taking software, OneNote. The new blog is curiously called OneNote2006.com, and allows anyone to sign up to be an author and create a post on OneNote topics. You can check out OneNote2006.com here.

This article may contain affiliate links. Click here for more details.