New Dell M4300 and Companion LS800 Tablet PC (Sort of)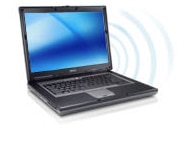 In the past few weeks I have been talking about getting my work issued computer and looking for a companion device.  Well, I have both of them – kind of…
The M4300 – It's been a while since I have had a 'normal' laptop.  Oh how I have missed the high res 1920×1200 – 15.4 widescreen!!! It's like heaven looking at that thing.  Sooo much screen real estate to have a bunch of applications open at the same time.  And the POWER – it has the C2D 2.5 GHZ 6MB L2 Cache 800mhz FSB that is processing data from 2 – 7200 RPM drives!!  It sure is nice to have things happen so fast!  With the applications I run daily – I have to refer to JK – "the right tool for the job". 
The LS800 – Perfect for what I want to do with a companion device – something small enough to carry to meetings, keep in my bag with the M4300, use for Power Point presentations and sit on my desk for quick notes.  I still need to have my Tablet PC (it's part of my work flow now) and unless something else comes out soon – the LS800 is the device I will have… and I almost did…  Thanks to John at AllTP I had a loaner LS800 for the past couple of weeks that I intended to buy but I had to send it back.  Why?  Well the money I had is going to fix a roof, get rid of mold and repair a bunch of dry wall…  Looks like the trusty x61 is going to stick around for a little while longer. Gotta put the roof over my family's head first before the toys. (the boss did still give approval for the iPhone if there is a little left)
What does all that mean?  It means that for the next few weeks/couple of months I will be using my M4300 and my x61 to do my job, get my Tablet PC fix and also have a sore shoulder…  Good thing the x61 isn't that heavy (cause the M4300 sure is!).  After funds add up for a while and I can make the purchase I will have my 'as close to perfect' setup to keep me productive and organized.
Does anybody else have a 'combo' system?  Desktop and Tablet PC?  Like me – the Laptop and small Tablet PC combo?  How is it working for you?

As an Amazon Associate I earn from qualifying purchases.