New Eee Keyboard video shows what it can do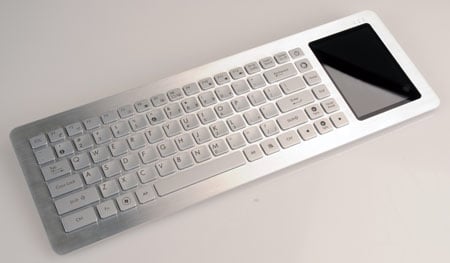 The folks over at ASUS have been teasing us for some time about their new Eee Keyboard.  The idea behind this device is that it will be a self contained computer (with netbook-like technical specifications) that is a keyboard. The Eee Keyboard connects to a TV or monitor over a wireless HDMI connection, connecting like a typical wireless keyboard . From this keyboard you can web surf, watch YouTube and other functions. The keyboard also has a built in touchscreen LCD, but it's not large enough to function as a primary display. Instead, it's a secondary display that you can use to launch applications and load widgets such as a weather app.   The entire set it is similar to the old Web TV set up that was around many years ago.
Here is the new video on the Eee Keyboard:

There is no word yet on pricing or availability, but at least ASUS is trying to get a buzz going on the device before it comes out to the public. Will this device catch on? Is there a market? Well, considering there wasnt a market for the iPad until a few days ago, anything is possible.

As an Amazon Associate I earn from qualifying purchases.