New Facts About the Fujitsu Stylistic Q550 Slate
I had the opportunity to speak with Paul Moore, senior director of mobile product management for Fujitsu America (this guy), regarding the Stylistic Q550 slate due to start shipping June 3rd. Given the wealth of information already released about this Windows 7 tablet, I figured there wasn't much new to cover, but I learned more than I expected, including why Fujitsu (and everyone) is choosing N-Trig for their 10″ tablets, how Intel AppUp plays into their strategy, just how swappable that battery is, and what mobile broadband providers it supports.
Why N-Trig?
As the long-time GBM readers know, N-Trig digitizers have been a source of much controversy and heated emotion for Tablet PC users. I won't rehash it all, but suffice to say, as exciting as their technological advances have been, they've garnered a lot of negativity from users. You can see and judge for yourself in our coverage over the years.
For some, an N-Trig digitizer in a tablet is an automatic deal breaker. If you're in that crowd, you're out of luck, not just with the Q550 but with all 10″ tablets. According to Paul, N-Trig is the only game in town for dual digitizers in the 10″ space.
This goes against common speculation among tablet enthusiasts that N-Trig is simply a more affordable option than Wacom, particularly with the presumed-cheaper battery-powered pen (which is what the Q550 uses). It was a reasonable conclusion given its deployment among cheaper, consumer-focused tablets, but murkier when it started showing up on enterprise- and business-centric slates (Q550, Motion CL500). It turns out screen size alone is the deciding factor. Can't put a Wacom digitizer on a 10″ display if they don't offer it.
Hearing this was a real epiphany for me. Suddenly it makes sense why the ASUS EP121 with 12″ display uses Wacom and everything smaller uses N-Trig. It also solidly explains why Fujitsu, with its long history with Wacom, made the switch.
Intel AppUp Inside

The Q550 is not a consumer tablet such as the iPad and Android models, but Fujitsu recognizes that, as on any computer, application support is vital. To help fill this void, the Q550 will feature their new Infinity App store.
It's basically a custom version of Intel AppUp that will focus on business and enterprise type of software. Presumably it will have access to the full Intel AppUp market as well, so if you want to play Angry Birds on your Q550 (maybe while playing it on another tablet at the same time), you can. The Infinity App store, uh, app is already available for download for anyone from Fujitsu Hong Kong.
Swappable Battery: Hot, Warm, or Cold?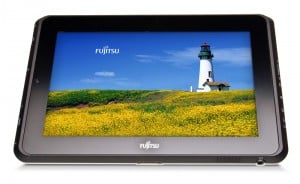 Road warriors will be interested to learn the battery is cold-swappable, meaning the Q550 must be in a powered-off state when swapping the battery, either off or hibernate, unless running on AC. While this is less convenient than hot- and warm-swappable batteries (swappable while the system is active or in sleep mode, respectively), the SSD should allow it to go into hibernation in a matter of seconds ("near instant" in Paul's words). There will also be a special utility to enable this. As I've seen on other Windows 7 systems with SSDs, hibernation is far less problematic than it has been in the past. The battery itself features a "red, yellow, green" meter to indicate charge status.
Broad mobile broadband support
While some of you could already figure this out from the specs, Paul confirmed that the Gobi 3000 mobile broadband option will support the Verizon, AT&T, and Sprint networks. Pricing for this option is not final but will be $100-125. Available in August (pending certification).
Thanks again to Paul Moore for speaking with me today and clearing up or explaining those points. Frankly, given the wealth of material Fujitsu has already released on this slate, I didn't think I'd have much to report except for the digitizer decision. I will be giving some of these points a hands-on inspection once review units are available.