New Galaxy Note 2 Ad Shows Off Business Savvy Multi-Window Feature
The latest ad for Samsung's Galaxy Note 2 shows off the phone's Multi-Window mode for work and for play.
The ad shows two workers both using the Galaxy Note II talking about how they use the phablet. The woman in the ad talks about sending a text message while viewing a video of puppies, while the man shows how he uses the phone to watch an earnings report while taking notes.
The woman then shows how she can sketch quick pictures on the phone with the stylus while the man continues working in multiscreen mode and the stylus.
https://www.youtube.com/watch?v=Itb0s5jTJHY
To close out the features in the ad the man shares his report with his coworker via S Beam, to show how easy it is to share files between devices. Samsung shows the feature in almost every ad, presumably because not everyone knows about NFC and how it works beyond Google Wallet. Thankfully this use doesn't involve any naughty videos from Mrs. Claus.
The new ad does a good job at showing how the same phone is useful for personal and work use. The phablet form factor isn't for everyone, but the ad makes a good case for using it in place of a tablet or laptop for some work. Every smartphone can take notes or watch an earnings call, but not every phone can run two apps at the same time like the Note 2 can.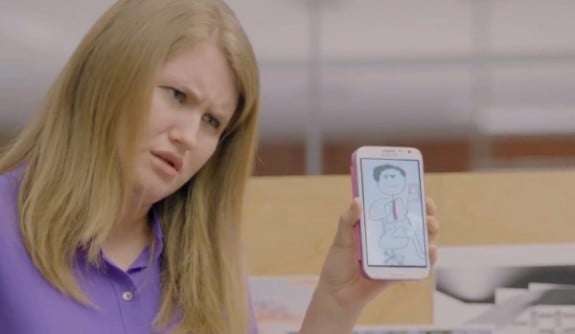 Samsung's other flagship smartphone, the Galaxy S III can also run two apps at the same time after the upgrade to Android 4.1 Jelly Bean. The screen on the Galaxy S III is a bit smaller than the 5.5-inch Galaxy Note II, however, so both apps will appear smaller. The Galaxy S III also lacks the stylus of the Note 2, which arguably makes it harder to take notes in multiscreen mode.

As an Amazon Associate I earn from qualifying purchases.