New Galaxy Note 4 Deal Saves Buyers $100
If you missed out on a few of the Samsung Galaxy Note 4 deals that surfaced over the holiday season, a brand new deal from AT&T was recently announced cutting the price by $100 for potential buyers. The deal is actually for the AT&T Samsung Galaxy Note 4 or Samsung Galaxy Alpha, and is available as we speak.
In September Samsung took to the stage and announced a slew of new products including the Samsung Galaxy Note 4, a follow up to the Galaxy Note 3 that launched in 2013. The Galaxy Note 4 delivered a number of new features along with a better display and camera, and now you can get it at a steep discount.
Read: Galaxy Note 4 Lollipop Update Details Emerge
A month later, the Galaxy Note 4 release arrived in a number of countries including the United States where AT&T, Sprint, T-Mobile, U.S. Cellular, and Verizon, the nation's top five carriers, put the new flagship on sale. As expected, the Galaxy Note 4 price followed in the footsteps of the previous Galaxy Note models and went on sale for $299.99 on-contract. However, off contract it can be rather expensive.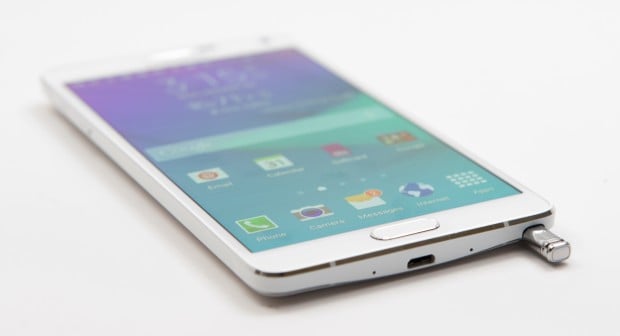 We saw a few extremely enticing deals over the holiday period chopping the price down on the Galaxy Note 4 so potential buyers could save a buck or two, but since then there hasn't been any offers worth checking out. However, if you happen to be with AT&T and are looking for a new phone, this is one worth checking out.
Essentially this deal will save AT&T Next customers $100 off of the Samsung Galaxy Note 4, but only in the long haul. Rather than sign a 2-year contract and buy the Note 4 for $299, or get the Samsung Galaxy Alpha, using AT&T Next you pay $0 down, and make monthly payments on the phone. A similar offering we've seen from T-Mobile and Verizon for most new smartphones released over the past year.
As you can see above, AT&T is offering the impressive Samsung Galaxy Note 4 or the Samsung Galaxy Alpha on AT&T Next with a $100 credit towards your bill. You won't be getting a $100 gift card, or saving $100 up front, but you'll get $100 off of your bill. Essentially saving you $100 on the smartphone purchase. Take note that this deal ends today, and is online only, so you better hurry!
Samsung's Galaxy Note 4 is an expensive top-tier flagship smartphone with a 5.7-inch Quad-HD display, a fast quad-core processor with 3GB of RAM, and an excellent 16 megapixel camera with optical image stabilization. It's one of the best phones around, but isn't cheap.
With AT&T Next you don't sign a contract, and instead sign a contract to make monthly payments until your phone is paid for in full. It's a popular new strategy in the mobile world. With this deal you'll  pay monthly for those smartphones ($30.64 for 20 months on AT&T Next 12, $25.55 for 24 months on AT&T Next 18, and $20.44 for 30 months on AT&T Next 24) until the Note 4 is paid off. The $100 savings isn't on the device, but on your bill.
It's a pretty good deal that essentially makes Samsung's Galaxy Note 4 or Galaxy Alpha $100 less for prospective buyers, and you won't have to sign a 2-year contract to get it. Again, this deal ends today so you better act fast.

This article may contain affiliate links. Click here for more details.