New GTA 5 Rockstar Editor Update Detailed
Video game developer Rockstar Games is ready to share details about the Rockstar Editor that it teased last week for owners of GTA 5 for Microsoft's Xbox One and Sony's PS4 console. We now know that the Rockstar Editor is coming to the Xbox One and PS4 this September. It's getting a massive update for the occasion.
Rockstar details the new Rockstar Editor in a post on its Rockstar Newswire blog. The Rockstar Editor is a video creation tool that gives gamers the options they need to create spectacular clips from GTA Online, the game's multiplayer experience. GTA 5 for Windows PCs have had the Rockstar Editor since it launched back in April. GTA 5 for Xbox One and PS4 both rely on Microsoft and Sony's built-in video editing tools.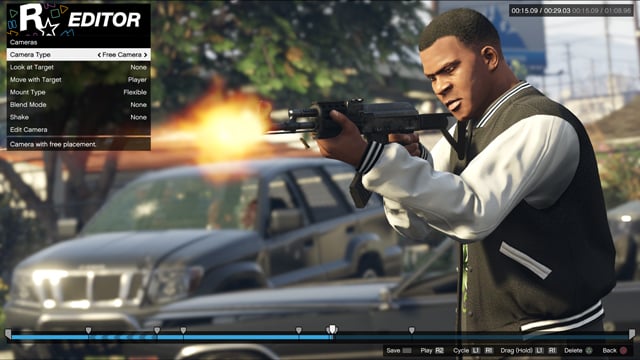 The upgraded Rockstar Editor will have new fonts for games to use when they add credits and visual information to their video clips. Rockstar also updated the Rockstar Editors code so that users can "easily copy and paste" audio between two different clips, which is pretty impressive in its own right.
The Director Mode is what allows GTA 5 players to set different camera angles and cinematography with the game's engine. Going forward, Director Mode will allow users to adjust the time of day it is in the game to create just the right setting for their shots. Also, Director Mode users can have different vehicles surface in the game on command. The sound library in The Rockstar Editor has also been updated, along with an updated Snapmatic app for sharing still pictures. Snapmatic is the in-game camera app on user's smartphones.
Rockstar says that it'll unleash the update containing Rockstar Editor free sometime in September on Xbox One and PS4. PC users will also get all of these upgrades for their version of the game too. Going forward, Rockstar plans to update the Rockstar Editor with new features over time, just like it does other features weaved into the GTA Online experience. With the Rockstar Editor up and running on all current platforms, Rockstar plans to hold another caption contest for players of the game in September.
As expected, Rockstar's post doesn't include any information about the Rockstar Editor coming to the Xbox 360 and PS3 versions of the game at all. That makes sense, those are the oldest versions of the game; they already pushed their respective consoles pretty hard. It's possible that Rockstar will never bringing the editor to those older consoles. It's also possible that Rockstar is simply prioritizing current generation consoles.
What Rockstar does do in today's post is tease another update for GTA Online. The post doesn't go into specifics, but does note that users can expect some "exciting new gameplay for GTA Online Freemode." This title update will launch with the new Rockstar Editor sometime in September. Freemode is basically in-game world in GTA Online. When not in a job, GTA Online players are saddled together in Freemode, where they can do everything from wreak havoc on innocent citizens to hunting each other.
Read: All The Properties You Can Buy in GTA 5's GTA Online
The latter happens more often than most would think is fun today. There are shops to visit, cars upgrades to buy and houses to purchase in Freemode. It's unclear what features Rockstar could add to Freemode, it's already well-stocked with features and there's already tons of weapons, vehicles and clothes for users to purchase.
It first arrived back in 2013, but GTA 5 is still one of the most popular video games available today. Video game outlet GameStop has the PS3 and Xbox 360 versions of GTA 5 on sale for just $29.99. Used copies of the game for those systems cost $27.99. Buying a used version for the Xbox One or PS4 costs $54.99.

As an Amazon Associate I earn from qualifying purchases.