New Hints of Retina Display on iOS 5 for Next-Generation iPad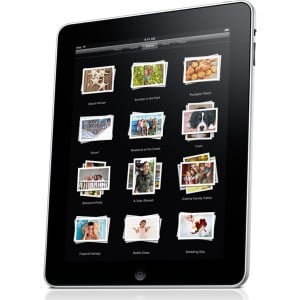 After much debate and prior speculation on when Apple would release an iPad with a higher resolution Retina-like Display, new evidence found inside iOS 5 suggest that Apple is exploring a tablet with a 2048 X 1536 display. The new art assets found on iOS 5 confirms what was discovered inside the iBooks app in January, and reveals the higher resolution screen through backgrounds and other Twitter frameworks.
Thus far, it seems that evidence for the increased resolution appears to be limited, and suggests that Apple may not be ready for a Retina Display on an iPad tablet and is in the early phases of toying with the idea. In the past, Samsung has hinted that such a resolution is feasible, but perhaps cost is the factor right now in determining when Apple would deploy a consumer shipping version of its tablet with that resolution.
Additionally, dual-core CPUs only have enough power currently to handle a 1080p display. Perhaps a quad-core A6 processor could make a Retina Display iPad 3 possible? For comparison, on the latest Intel notebook-class processor, the 13-inch MacBook Pro supports a resolution of just 1280 X 800, which pales in comparison to the potential and promise of the Retina Display for an iPad. Whatever the case, it's promising to know that Apple is exploring higher pixel densities on larger screens.
News of the higher resolution iPad display comes after a 3D screen prototype was shown on an iPad.
Via: Electronista