New HomeKit-Enabled Smart Ceiling Fans Let Siri Cool Off
New ceiling fans from well known ceiling fan manufacturer the Hunter Fan Company offer a surprising feature (well, for a ceiling fan): HomeKit integration.
The new HomeKit-enabled fans mean that you'll soon be able to not just control your fan with Siri, but also integrate it into a growing wealth of intelligent home automation products.
Each of the two fans offers Scenes and Triggers – while you'll always be able to manually intercede, the fun comes when you start hooking them into, say, your HomeKit-enabled thermostat. If it kicks on the A/C, you might have it automatically turn on your Hunter fans, for example (that's an example of a trigger). A scene might involve turning the fan on low, dimming your HomeKit-enabled lights, and locking your HomeKit-enabled smart deadbolt.
The two fans are largely identical aside from their outward appearance; the Symphony is a glossy white modern marvel, while the Signal is designed with a satin nickel housing a reversible burnt oak / reclaimed walnut blades.
Each also features dimmable LED bulbs in the base.
It's an interesting move for the fan company, which has been around for some 130 years, and a way to stay relevant in houses packed with technology.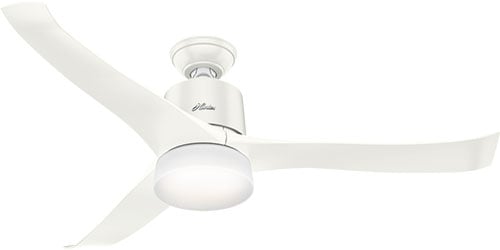 Should you find yourself desiring one of these smart…fans…, you'll be able to snag one from your favorite big box home improvement store (think Lowe's, Home Despot, etc). The modern white Symphony will run $329, while the brush metal and reclaimed walnut of the Signal drives the price up to $379.
The price does include an extra handheld remote for controlling both the fan and the lamp, however, should your phone run out of juice. And if you just can't bide the time until the fans start shipping, Hunter Fan Company offers an app that lets you see how the fan of your dreams would look in any room of your home.

As an Amazon Associate I earn from qualifying purchases.