New HP Netbook Mini 1000 Peeks Out
Just as we suspected when we posted the price drop on the HP 2133 Mini-Note at Amazon, there would soon be news of a new HP Netbook. And, wouldn't you know it, there is.
Vivek at the Technicist caught site of the HP Mini 1000 on HP's shopping site.
All the data and specs aren't known yet, but we do know that we are looking at weight under 2.25lbs and less than one inch of thickness. We're also looking at a starting price of $399. (The HP 2133 Mini-Note at Amazon is now on sale at $299.) Tough to tell from the pictures, but I think we're looking at a black plastic case design instead of the brushed aluminum, and that holds a 10 inch screen.
No word on what the chipset is, but I"m guessing we'll see HP adopt the Intel Atom. Kevin Tofel points out that the screen resolution could be 1280×768, which would be different from what we've seen before.
Vivec also points out or ahead to a Laptop Magazine video of the HP 1000 that won't be available for viewing until Wednesday, October 29.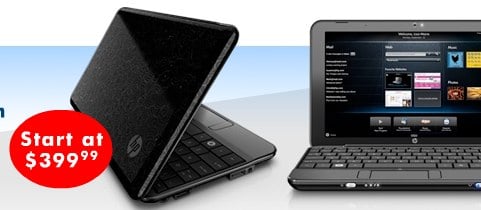 As an Amazon Associate I earn from qualifying purchases.