New HTC One Leak Puts Focus on Final Details
The successor to the popular HTC One from last year, codenamed the HTC M8 which will officially be called the All New HTC One, has leaked again today revealing the final few details that were still a mystery.
With the March 25th launch event coming up quick, we've continued to learn more and more about this often leaked smartphone ahead of the release date. Following two lengthy detailed videos this week, today GSMArena has the full scoop on pricing, the new "Duo Camera" on the back, and one more feature which HTC borrowed right from the LG G2.
After multiple leaks as far back as last year revealed two cameras on the back of the new HTC One, many fans and enthusiasts have wondered just exactly what HTC had planned. Surely the 3D camera idea was a bust from 2012, so what would the Ultrapixel camera benefit from a second sensor. Well, today's leak confirms this will be called the HTC Duo Camera, and your photos are about to get a lot better.
Duo Camera
The improved dual camera setup on the new HTC One will allow users to "create vivid images even in low light and professionally edit memories after you've taken the shot. Choose where to focus, highlight what you love, soften backgrounds and add 3D effects."
Read: New HTC One (M8): Everything You Need to Know
This is basically what we've been saying for a few months now. Assuming no 3D specific features would be on board, HTC is using the second sensor to help capture better low light photos, which will work excellent indoors. Then all the professional edit and Lytro-like features of editing and changing focus, even after you've taken the photo. We can also expect an improved camera, gallery, and editing app on the new HTC One to take full advantage of these new features.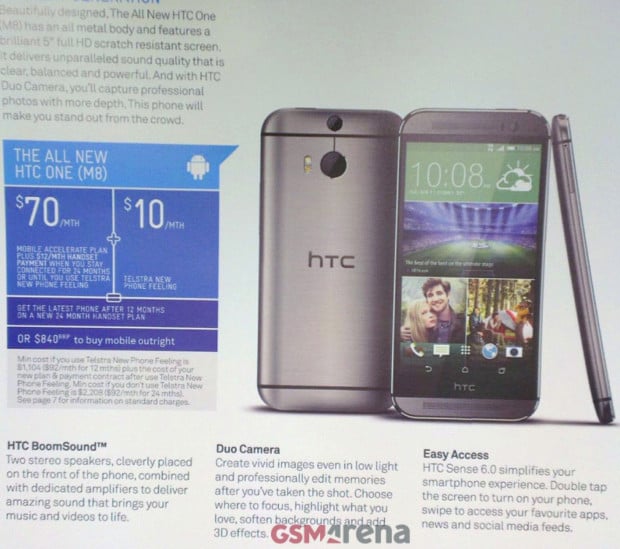 Easy Access
Another feature we haven't heard about until today is called "Easy Access" which is essentially the exact same feature LG added to its devices last year with the LG G2 and a few others called KnockON. It sounds silly and simple, but this is an extremely convenient and simple feature that many consumers liked. A simply double-tap on the screen will turn it on.
HTC bundled this with the "easy access" swipes of heading into Blinkfeed for news and social media, or the quick swipe to instantly get to your favorite apps. So in a way this is another new feature added to Blinkfeed and Sense 6.0, and it's a welcomed edition.
Price
The leak confirms the 5-inch HD display and Boomsound dual front-facing speakers, but they were expected and already known. What we didn't know was the price. While this will obviously vary by region, carrier, and storage options, Telstra in Canada has the phone for $840 outright. When converted to US dollars that comes in around $757, but we're expecting something closer to $549 or $599.
The leak also mentions prices for monthly payments, but again, in the US each carrier is different and has options for down-payments which will change your monthly payment, on top of the monthly bill.
Release Date
Finally, this is one more clue in regards to a release date. Sadly this leak doesn't have an actual release date, but we're expecting that to surface any minute now if things continue to leak at this alarming rate. That said, with the video yesterday showing a T-Mobile HTC One completely ready to ship with carrier apps pre-loaded and all, and now Telstra ads already completed, HTC could be aiming to release the phone the day it's announced.
The announcement isn't scheduled til March 25th, which has many assuming a late April launch after the Galaxy S5, which is rumored to arrive on shelves on April 11th. But with multiple carriers now seemingly preparing for a release with products in the wild and adverts nearly two weeks out, we could see a launch much earlier than originally expected.

As an Amazon Associate I earn from qualifying purchases.