New HTC Sensation Rumored to Feature HD Display, Beats By Dre
If you thought the first HTC Sensation was a beast, then you're going to fall in love with the rumored HTC Sensation Special Edition that will likely include a bump in processor speed, screen resolution, and may be the first handset to feature Beats by Dre technology. The specifications match up pretty well with those of the HTC Vigor, a device that's rumored to be heading to Verizon, but it's unclear if these are separate devices (most likely) or one in the same.
Whatever the Sensation Special Edition is, it's apparently rocking a 1.5GHz dual-core processor which is up from the 1.2GHz dual-core found on the original HTC Sensation, a 4.3-inch Super qHD LCD HD display, an 8MP rear camera, VGA front facing camera, a battery increase from 1520 mAh to 1730 mAh, and 4GB of internal storage space.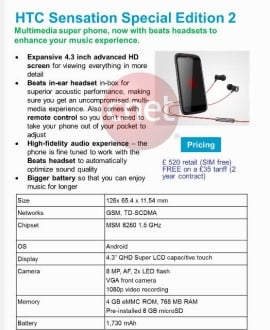 It'll also run an unknown version of Android and will feature a Beats in-ear handset with a remote control. The device itself is apparently fine tuned to work with the handset which will give owners an optimized audio experience.
As for pricing, it will apparently cost £520 in the UK which translates to $847 U.S. dollars. Doubtful that it will be that expensive on contract but with the headphones selling for$120 alone, it's possible.
No word on a release date but it would be surprising not to see this announced at the IFA conference in Berlin this week.
Any takers?
Via: CNET