New iMac Release Possible in September as Deals Arrive
A collection of new iMac deals and dwindling inventory suggest Apple is preparing a new iMac release for September or October, which could come alongside new MacBook Pro models.
The new iMac for late 2013 will likely include the new Intel Haswell processor that is currently in the MacBook Air. Battery life is not an issue on the iMac, but users could benefit from other enhancements.
Apple announced the current iMac in late 2012 with a slimmer new look, but launched in very short supply which prevented many users from buying one until early 2013.
Read: iMac Review Part 1
This week retailers like B&H, Amazon and Best Buy began offering a number of iMac deals that arrive as Apple is reportedly slowing the flow of iMacs to retailers in an attempt to liquidate the current model ahead of a new iMac.
Apple Insider reports on the collection of iMac deals that hint at Apple's near-term plans to deliver a new iMac to consumers.
"Given the new inventory management measures Apple adopted after January's MacBook Pro surplus scare, the discounts are likely the start of a multi-week effort to run its iMac channel fairly bare."
The new iMac models could be ready for a release as early as this month according to Apple Insider's report. Even if Apple is ready to launch a new iMac this month, it is likely that we could see the new iMac release arrive after the rumored iPhone 5S event on September 10th.
If Apple delivers a new iMac in the next month or two, look for updates to the 21-inch and 27-inch iMac models to arrive at the same time, rather than staggered like the release last year.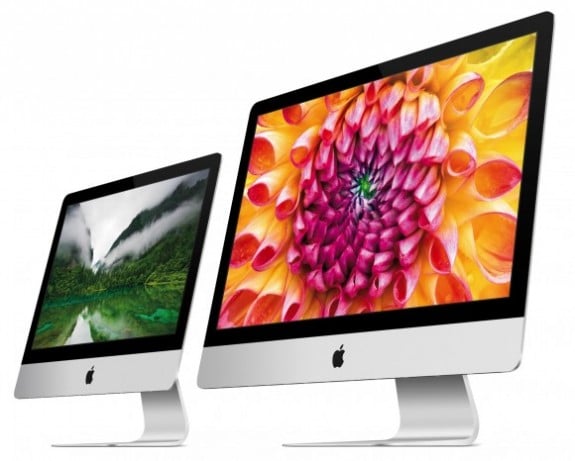 A separate report claims Apple is preparing for a new MacBook Pro release date in September or October. It would make sense for Apple to launch a new iMac and a new MacBook Pro Retina in the same timeframe as both will likely use the new Intel Haswell processors and could run OS X Mavericks out of the box.
Apple announced OS X Mavericks at WWDC 2013, and is on the 6th beta for developers. OS X Mavericks includes better multi-monitor support, power saving features, iBooks for Mac, Maps for Mac, Finder Tabs and tags as well as iCloud Keychain which syncs passwords across Macs and iOS devices.

As an Amazon Associate I earn from qualifying purchases.