Super Thin iMacs Now On Sale Online & In-Store
Apple fulfilled its promise of shipping the new iMacs in November by offering both the new 21.5-inch and 27-inch models for sale today, the last day of November.
The new iMacs feature a new design that make the All-In-One desktop look much thinner than it actually is. The edge of the device looks like it's just millimeters thick, though the curved back show that it is actually a bit thicker. Even so, Apple calls this new iMac its thinnest version of the desktop machine yet.
Unlike the latest MacBook Pro models the new iMacs don't have Retina Displays. Apple did eliminate the gap between the glass and the display on the new iMacs, however. The result, according to Apple, is a better looking display. The new screens also have 75 percent less reflection than earlier models which means less glare on the display.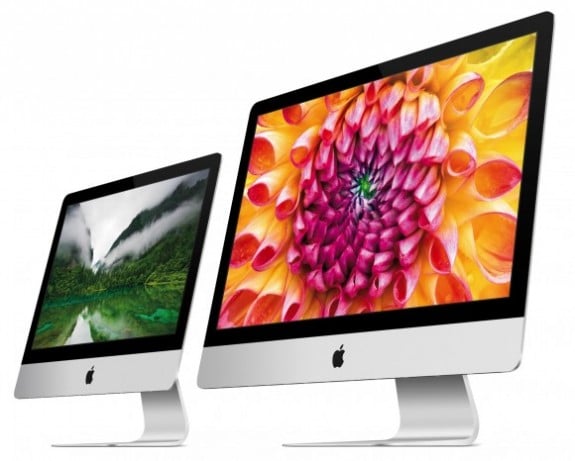 The new iMacs use the latest Intel Core i5 and i7 CPUs like most Ultrabooks. They also use Nvidia's Kepler graphics in the GeForce GT 650M and GeForce GT 680MX. The graphics chips mean games will run better than on previous iMacs. Photo and video editing will also benefit from the faster graphics chips.
All new iMac models come with a 1TB HDD standard. Apple offers another option with its new 1TB Fusion Drives. Fusion is Apple's term for hybrid drives which contain both a spinning disk and SSD storage. The draw of the new drives is OS X will automatically move files that users use often to the faster SSD portion of the hard drive to make the daily routine faster.
The new iMacs ship with OS X Mountain Lion and hold three USB 3.0 ports, two Thunderbolt ports, one Ethernet port, and an SDXC card slot.
The 21.5-inch models starts at $1299 and will ship in 1-3 days. The 27-inch starts at $1799 and will ship in 2-3 weeks. It's easier to buy the machine online as Apple stores have limited stock, if they have any at all.

This article may contain affiliate links. Click here for more details.