New Images of BlackBerry Q10 Show Rubberized Back
Newly leaked images of the BlackBerry Q10 smartphone show the QWERTY BlackBerry 10-powered device with a soft-touch rubberized backside, similar to the material used on the BlackBerry Z10. The BlackBerry Q10 was previously shown with a smooth plastic backing, similar to the style employed by the BlackBerry Bold 9900 series, but it seems that BlackBerry may be using a textured surface on the back to aid in gripping the device.
Images of the textured back were initially discovered by Genk.vn and were re-posted on N4BB. 
It's unclear what final design style BlackBerry will settle on. A glossy backing similar to the Bold 9900 series would make the device appear more sleek, especially when compared to the glass back of the Nexus 4. However, a textured soft-touch back plate may make the phone more ergonomic and functional. It's as much a matter of taste as it is an issue of form over function.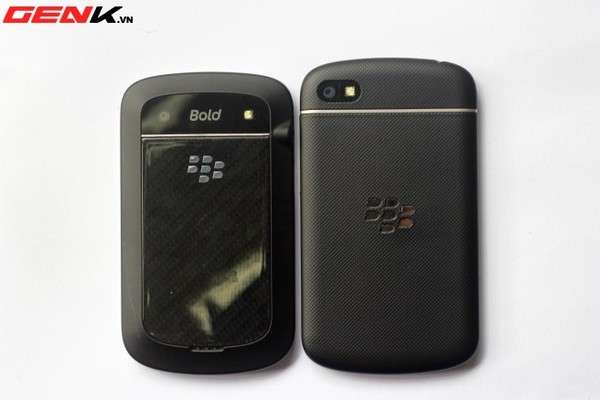 One scenario may be that BlackBerry will offer carriers a choice of which design they would prefer to offer to customers. Another scenario would be BlackBerry ultimately deciding which design to mass produce and offer just one design for the global market.
The BlackBerry Q10 offers a square aspect ratio 720p HD touchscreen display above a physical hardware QWERTY keyboard. The keyboarded form factor will be familiar to BlackBerry loyalists. The smartphone was announced alongside the BlackBerry Z10. The BlackBerry Q10 is expected to debut sometime in April or May in the U.S.
It's unclear how much the BlackBerry Q10 will retail for with a two-year contract when it debuts.
Those who are eagerly wanting to get their hands on the new BlackBerry 10 OS and are business customers can look to T-Mobile USA as that carrier will begin offering the BlackBerry Z10, the slate-style cousin of the BlackBerry Q10, starting today for a retail price of $250 with contract.

As an Amazon Associate I earn from qualifying purchases.