New iMovie, iPhoto App Can Be Installed on Older iPad With Simple Workaround
Though the hardware requirements for the new iPhoto and iMovie app lists the iPad 2 as the minimum that these apps will be able to run on, developers have figured a simple workaround to get the new iPhoto app for iOS and the updated iOS iMovie app to run on the original iPad 1, which sports a single-core A4 processor and more meager amount of RAM compared to the second-generation tablet and the new iPad that was recently announced and will become available on Friday. Fortunately, for those reluctant to modify their tablets, the discovered workaround does not require jailbreaking the tablet and works within the confines of Apple's ecosystem.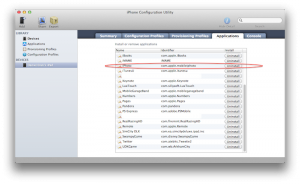 Though iPad 1 owners won't be able to directly purchase the new apps on their tablets, users can download and purchase the apps on their PCs or Macs using the iTunes software. A direct sync of the app to the iPad 1 will not work via iTunes, however.
To get the app from iTunes to your first-generation iPad, you'll need to download and install Apple's free iPhone Configuration Utility, which is normally used by IT departments to deploy fleets of tablets to enterprise users, on your Mac.
After the Configuration Utility is installed and opened, you can then transfer the app(s) that you need to your iPad that way. Performance of these apps may be degraded as the apps were designed for the iPad 2 at minimum, and the third-generation iPad has a faster graphics processor and more RAM to make performance even better.
The iPhoto for iOS app was unveiled to complete the iLife suite of mobile apps at the debut of Apple's third-generation iOS tablet. The app, which complements the built-in Photo app on the slate, costs $4.99 and allows users make greater edits to their photos and create photo journals on the go. The universal app is compatible with both tablets and smartphones running Apple's iOS software.
Via: Apple Insider