New Intel NUC PCs at CES 2016 Have More Power
Intel, long known for creating the things that go inside the PCs and devices of its partners, shocked the world when it debuted its first set of Intel NUC desktop PCs. Designed to inspire hardware partners to create ever smaller PCs, the Intel NUC PCs have gotten internal refreshes ever since they debuted. At the Consumer Electronics Show there's a new line-up of Intel NUC PCs all built with Windows 10 and the latest Intel Core processors.
The new Intel NUC desktop PCs are on display this week at Intel's CES 2016 booth. Intel has opted to keep the same basic form factor as older devices in the series. The set of low-profile, tiny PCs have always been a showcase for what Intel's hardware can do. Most often, Intel NUC PCs are used as media player replacements and hobbyist machines. In all, there are four different members of the upgraded Intel NUC family.
The Intel NUC with Core i5 Processor has a dual core Intel Core i5 processor with Intel Iris 540 graphics, DDR4 slots for RAM, Bluetooth 4.1, HDMI, Mini DisplayPort, 4 USB 3.0 ports, 2 internal USB 2.0 ports and an Infrared sensor. Intel's including Wireless AC Wi-Fi technology. Ethernet port is included too. These models all include NFC for communicating with smartphones and add-ons in short bursts. The Intel NUC with Core i3 Processor has a dual-core processor with Intel Iris 520 graphics.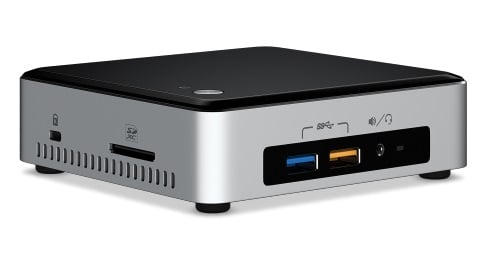 The other too models in the new Intel NUC family are the same as these first two, except that they offer more room inside for 2.5-inch mechanical hard drives and SD card slots. That's important as mechanical hard drives offer more storage for a lot less money than flash storage. Those that pick up an Intel NUC need to add their own RAM and internal hard drive. Intel doesn't install an operating system on the devices either.
Intel says that it plans to begin selling the refreshed Intel NUC PCs sometime in March of this year. It hasn't shared details about cost yet.

As an Amazon Associate I earn from qualifying purchases.